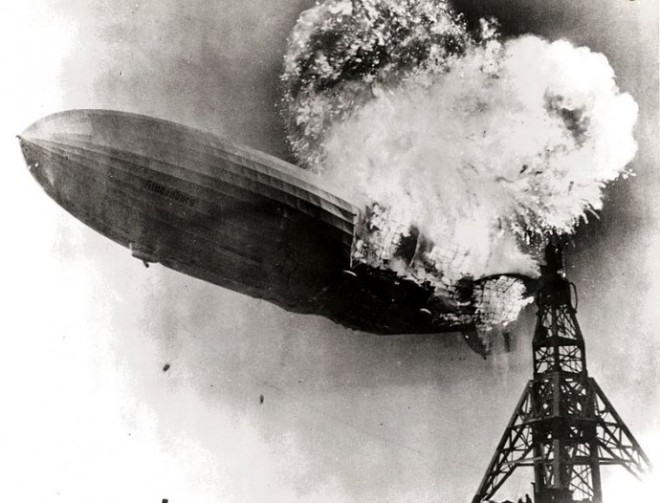 Newly rediscovered footage of the Hindenburg disaster not widely seen in 77 years may provide fresh clues as to what caused the airship to explode in 1937, killing 36 people.
Although footage of the disaster exists, a new video taken from a different angle was discovered in the archives of the Navy Lakehurst and Ocean County Historical Societies in Pennsylvania, giving a more complete picture of the nature of the incident.
The 803-foot-long hydrogen-filled Nazi airship famously caught fire and exploded on 6 May 1937 as it attempted to dock at the Lakehurst Naval Air Station in New Jersey. Of the 97 passengers on board, 61 people survived.
The exact cause of the disaster has never been fully determined, although a number of theories have been put forward, including sabotage, engine failure and static electricity.
Footage of the spectacular disaster appeared in numerous newsreels and the incident brought an abrupt end to the age of the rigid passenger airship.
The new video, which was obtained by NBC10.com, provides a new vantage point and takes viewers a few seconds closer to when the disaster actually happened.
Historians say the video shows that the pilots were having difficulty keeping the airship balanced in the minutes before the disaster as it was being moored, sending it crashing to the ground tail first.
Historian Rick Zitarosa, who is Vice President of the Navy Lakehurst Historical Society, told NBC 10: "In a great many disasters and scenarios, there's always rumour of the other film. Well this is that other film.
"The Hindenburg was having a little bit more trouble than they admitted when they were landing. No corporate or government entity ever likes to spill the beans that maybe we weren't as proficient or as lucky as they claimed to be."
Zitarosa added: "The film is pretty definitive. We would like to see it shown in the light of day in the next few years."
The film was last shown in 1987 to a small group of people at an event for 50th anniversary of the tragedy but subsequently disappeared.
"It was simply lost through history," said Kevin Pace, of the Navy Lakehurst Historical Society.
Watch footage of the Hindenburg disaster below: