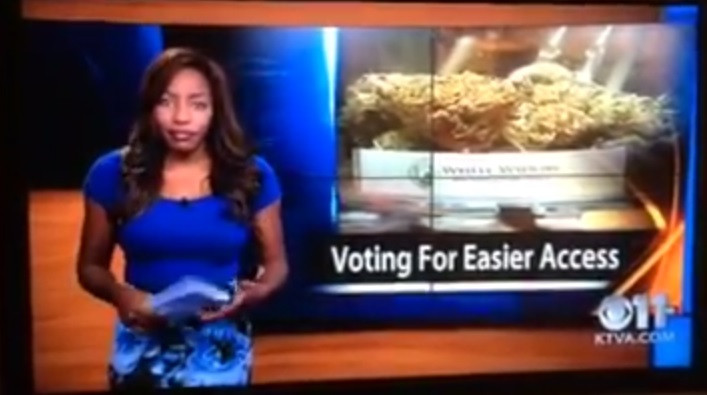 A news reporter in Alaska dramatically quit her job live on air so she could campaign for the legalisation of marijuana in the US state.
Charlo Greene, a reporter for Alaska-based news channel KTVA-TV, revealed herself to be the owner of the Alaska Cannabis Club, a "medical marijuana collective" that serves patients throughout Alaska.
Greene has reported on the club several times without ever revealing her connection to it. However, during one segment of the news programme, she revealed herself to be the president of the pro-marijuana legalisation group before adding "f**k it, I quit".
Following her shock resignation, the camera cuts to a visibly stunned main anchor, who stumbles over an apology before adding "we'll...we'll be right back".
The video of Greene's on-air resignation appeared online and soon went viral. In the video, Greene says: "Now everything you heard is why I, the actual owner of the Alaska Cannabis Club, will be dedicating all of my energy for fighting for freedom and fairness which begins with legalising marijuana here in Alaska.
"And as for this job, well, not that I have a choice but, f**k it, I quit."
(Warning: Strong language)
Following her live-resignation, Greene set up an IndieGogo page to ask for donations to help with their campaign for marijuana reform in Alaska.
She wrote in a statement on the funding page: "I'm Charlo Greene, the president and CEO of the Alaska Cannabis Club - Alaska's only legal medical marijuana resource. I just quit my news reporting job on live TV to announce that I am redirecting all of my energy toward helping to end a failed drug policy that has ruined the lives of far too many Americans."
Greene is hoping residents in Alaska will vote 'yes' on the upcoming Ballot Measure 2, the initiative to Regulate Marijuana Like Alcohol in Alaska, on 4 November.
She added: "As a member of the media, I've seen the dirty campaign tricks and lies that prohibitionists have been using over the past several months to sway Alaskan voters firsthand. Here's the sad thing: it's working. Polling shows the majority of Alaskans, who were in favour of the initiative at the start of the year, are now against it.
"Few people fighting for marijuana legalisation in Alaska are as media savvy, well-educated on the marijuana industry, passionate, professional and completely dedicated to passing this initiative as me, the only person in Alaska that has had the balls to face the injustice of Alaska's medical marijuana catch-22 and do something about it. My Alaska Cannabis Club members are right here with me, ready to fight this long overdue fight."
KVTA apologised and confirmed Greene no longer works at the channel.
News director Bert Rudman said: "We sincerely apologise for the inappropriate language used by a KTVA reporter during her live presentation on the air tonight. The employee has been terminated."