An electric hypercar with over 1,000 horsepower has been spied testing in the UK ahead of its November launch. The car, set to take on the LaFerrari, McLaren P1 and Porsche 918, is being built by Chinese company NextEV.
Led by Martin Leach, former president of Ford Europe, NextEV was created in 2014 and currently competes in the Formula E electric race series.
The hypercar spotted testing in the UK is the first of several electric road cars NextEV has planned for the coming years. Its powertrain has been developed off the back of NextEV's Formula E experience and, according to Leach, will develop more than one megawatt (1,340bhp) of power.
This figures puts it comfortably ahead of the Ferrari LaFerrari, McLaren P1 and Porsche 918, considered the current 'holy trinity' of production hypercars, and isn't far behind the 1,479hp Bugatti Chiron. It is claimed to have a top speed of over 300km/h (186mph) and accelerate to 100km/h (62mph) in less than three seconds.
These stats have quickly become par for the course in the world of hypercars, supercars and even high-end sports cars. But NextEV promises to include "a few surprises" to make its car unique, beyond the Formula E genes.
Speaking to IBTimes UK in July, Leach said the car "will be able to hold its own against the best of today's competition. We want it to show what we can do. For sure, it will have a few surprises, it will not just be another cookie-cutter supercar."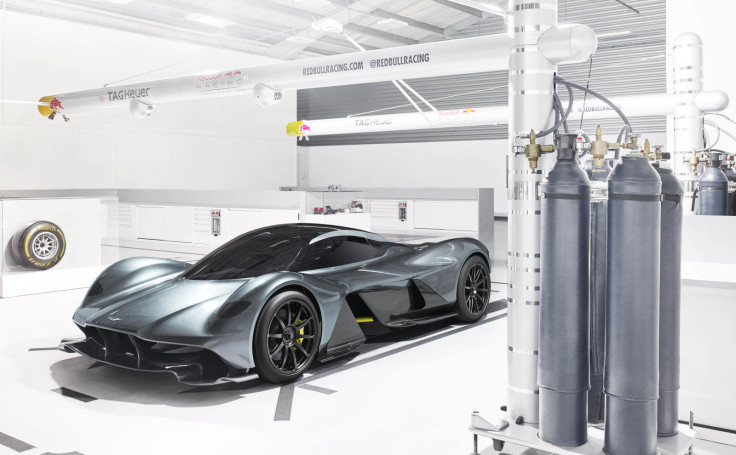 Leach also explained how his company wants to make owning a car "fun again", adding: "We want to take out the pain points that people complain to use about, about the ownership experience today. Not just electric vehicles, but generally."
The car photographed above appears to be on a rural airfield surrounded by trees, such as Dunsfold, where Top Gear is filmed and where McLaren tested the P1. The image was originally published by Chinese website Autohome, which adds that NextEV will formally reveal the car at an event in London on 21 November. It is claimed that up to 1,000 of the cars will be produced and the price will be around £1m.
As well as the three hypercars already mentioned, the NextEV car is set to rival two upcoming vehicles from Mercedes AMG and a partnership between Aston Martin and Red Bull. The latter is claimed to be as fast around the SIlverstone race track as a Formula One car, while Mercedes says its road-legal car will be powered by a hybrid F1 engine, as used by Lewis Hamilton and Nico Rosberg.