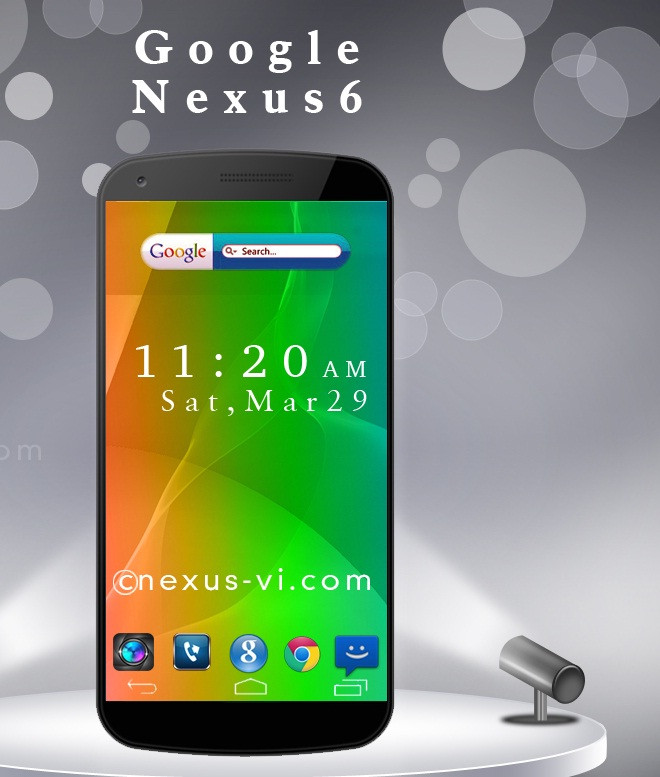 Fresh specification details of Motorola Shamu aka Nexus 6 has resurfaced in AnTuTu benchmarks and GFX Bench, following the recent leak of GFX Bench logs for Google's flagship handset.
Earlier, GFX Bench scores hinted at 5.9in full HD display powered by Snapdragon 801 processor for the upcoming Nexus 6 smartphone.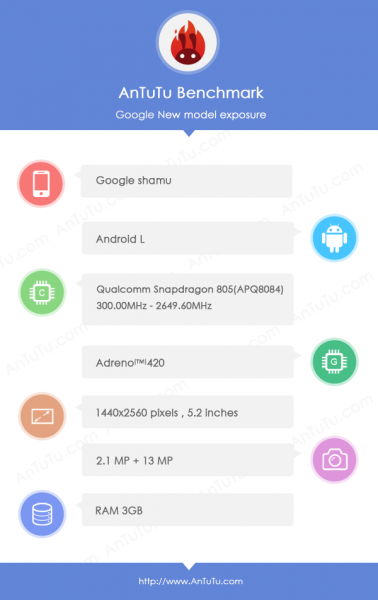 On the contrary, the freshly leaked benchmark scores from AnTuTu indicate the handset will get 5.2in Quad HD (1440 x 2560pixels) screen powered by Snapdragon 805 processor (clocked at 2.7GHz) and paired with Adreno 420 GPU.
Other technical specifications spotted in the AnTuTu benchmark log include 3GB of RAM, 13MP primary camera and 2.1MP front-facing camera which add more credence to the earlier leak.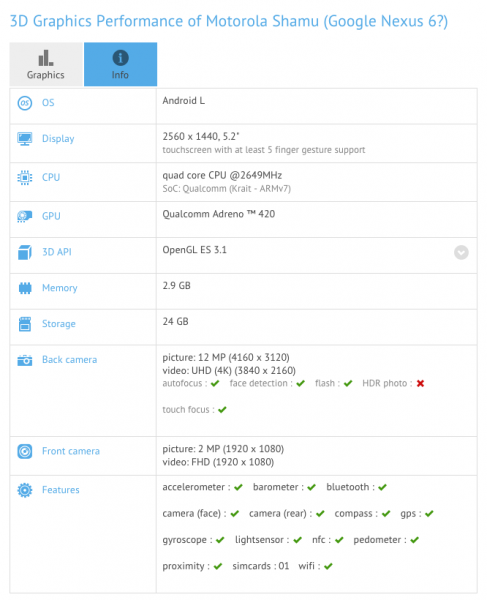 In related news, more details of Motorola Shamu have been unearthed via freshly leaked GFX Bench log, which coincides with the specifications revealed in latest AnTuTu benchmark report with the exception of 12MP rear camera.
In other words, all the specifications leaked in AnTuTu are exactly same as those reflected in the new GFX Bench log except for the rear camera.
The 12MP camera reportedly supports 4K video recording and the other key specifications of the Nexus 6 include 24GB available storage (probably for a 32GB model), besides supporting a host of sensors and connectivity options such as accelerometer, barometer, Bluetooth, compass, GPS, gyro, NFC, pedometer, proximity sensor, and WiFi support.
The Nexus 6 is likely to run Android L out-of-the-box, according to latest benchmark logs obtained from AnTuTu and GFX Bench.
Nexus 6 Launch Date
Nexus 6 is expected to launch in late October or early November, when Google is purported to release the highly-anticipated Android L for the public.