The rise of the smartphone has placed mobile computing into the hands of millions. Now the device you always pick up along with your wallet before you leave the house, could be about to replace that wallet.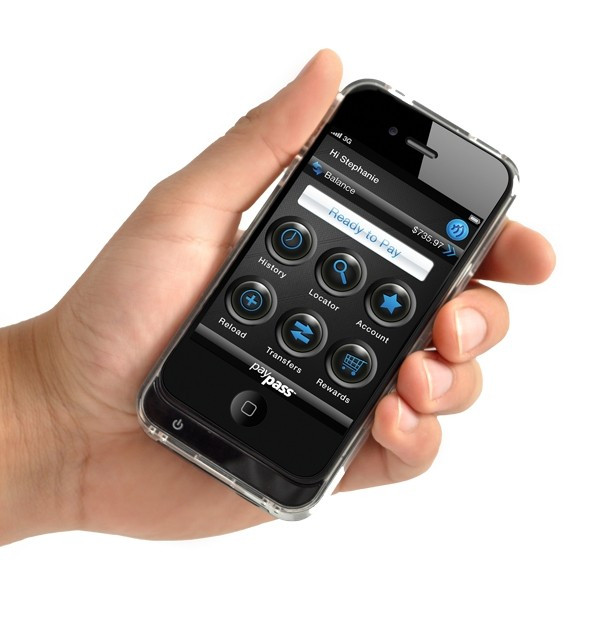 Many Android, BlackBerry, Symbian and Motorola smartphones already contain NFC payment technology and are ready to become your virtual cashpoint.
"If you think about what you used your phone for five years ago compared to today it is unimaginable. Now with the advent of iPhones, Android, BlackBerry and everything else it is incredible what that phone can do," said Tom Gregory, head of digital payments at Barclaycard Europe.
"So for us, it is a natural extension of that to say, if I use my phone to do all of these things then using my phone to make payments is not that much of a big step of the imagination."
The rise in contactless payments has been helped by an increase in the number of mobile devices currently containing NFC technology (see a full list of currently available handsets below).
"In 2011, handset vendors released more than 40 NFC-enabled handsets. Launches have increased rapidly in 2012 and a number of key manufacturers have NFC-enabled handsets in the UK market, including Samsung, Nokia, HTC and BlackBerry," said Philip Robinson, head of payments at Lloyds Banking Group.
A study by Forester Research suggests that by 2016 more than a quarter of US consumers will own an NFC-enabled handset and by 2013 most new smartphones will ship with NFC capabilities.
Barclaycard has already launched two mobile contactless handsets with Everything Everywhere. As a leader in the UK contactless market, it doesn't plan to stop there.
"We invested heavily in bringing to market the UK's first mobile contactless payment system with Orange and really for us that is just a start. Those mid-range phones allowed us to get a foot in the service and get our customers excited by it," Gregory said. "The range of Android phones we are just about to launch is really going to take this service into the mass market and really drive people to use their phone to make contactless payments."
Large elephant
Talk of handsets that have already been released is all well and good but there is one rather large elephant in the room: the Apple iPhone. Rumours suggest the iPhone 5 will contain NFC technology and having Apple backing contactless payments could see them adopted more quickly by the mass market.
"Patent filings indicate that Apple has explored incorporating NFC on the iPhone and, once again, rumours abound that it will be on the next version, the iPhone 5," Denee Carrington of Forrester Research noted in her study Why The Digital Wallet Wars Matter.
The consensus appears to be that an NFC-enabled iPhone would be a good thing for contactless payments.
"There is speculation that the iPhone 5 will include NFC technology, which would have a significant impact on mainstream adoption. Google already includes NFC functionality in its Android mobile operating system and provides an NFC payment service, via the Google Wallet in the US," said Lloyds Banking Group's Robinson.
"The total amount of smartphones that have NFC capability is around 20 percent when you look at annual shipments. That is worldwide and certainly Apple devices are around 20 per cent globally but in mature markets like the UK that figure is probably a much higher percentage. So obviously until you have an Apple smartphone with NFC it is going to take a while to take off," added Alan Moss, marketing director for WEMEA at equipment manufacturer VeriFone.
Good for merchants?
However, Rene Batsford, head of IT at food retailer Eat, questioned if Apple's use of NFC would be as good for merchants as other contactless systems.
"I don't know what Apple is going to do but whatever it does it will try its very best to take a big chunk out of the transaction. So the concern around that for merchants is what does Apple want out of it? Is it going to work with PayPal, with Visa? Probably not because Apple has its own billing platform. It will probably want to become a payment service provider as well," he suggested.
Despite all the rumours, there is no guarantee Apple will sign up to NFC technology. It has previously filed patents covering technology it then decided not to use and has shunned mass market platforms such as HDMI.
Carrington's study for Forrester Research suggests that it would not be the end for NFC if Apple decided not to join the party.
"Even if Apple opts out of NFC, the other manufacturers collectively have well over 65 percent penetration of US smartphones, a market that turns over about every two years. In addition, innovators such as DeviceFidelity have developed iPhone cases to make handsets NFC-capable. The handset dilemma will soon be solved," Carrington said.
Getting NFC-enabled smartphones into the hands of consumers is only part of the problem. Even those who have phones capable of making the payments don't necessarily have the additional software that should be provided by their mobile operators.
"On that side there is still a fair way to go," said VeriFone's Moss. "A lot of it is to do with the model, how you actually get transactional wallets on to mobile phones which are then issued to customers fully enabled. That is where I would say the mobile operators, the banks and obviously the facilitating companies in between need to work more closely together."
Core technology
Moss also believes retailers are waiting to see what sort of promotional schemes can be provided based on the core technology. Until that happens it will still be seen as just a payment technology and nothing more.
"With NFC handsets, I think there are still relatively few in the market that are actually being loaded up with either payment or NFC loyalty-type applications. So I think retailers know it is coming but at the moment for them it is still a transaction method," he said.
NFC Enabled Devices
Below is a list of phones and tablets including NFC technology, which are currently available to buy. Phones are listed in the category they were released although some may have since been upgraded to later versions of an operating system:
ANDROID 2.2 (Froyo)
ANDROID 2.3 (Gingerbread)
Acer E320 Liquid Express
Fujitsu Arrows µ F-07D
Google Nexus S
HTC Ruby (HTC Amaze 4G)
Kuoziro Frontier FT701W
LG Optimus LTE (LG LU6200)
LG Optimus Vu
LG Prada phone (LG-P940 / K2)
Pantech Sky Vega LTE
Pantech Sky Vega Racer
Samsung Galaxy Mini 2
Samsung Galaxy Note
Samsung Galaxy S Advance
Samsung Galaxy S Blaze 4G
Samsung Galaxy S II
Sony Xperia S
Turkcell T11 Maxiphone (ZTE Racer II)
Xolo X900
ANDROID 4.0 (Ice Cream Sandwich)
HTC One X (HTC Edge)
LG Optimus L5
LG Optimus L7
Samsung Galaxy Nexus
Samsung Galaxy S III
Turkcell MaxiPRO5
Turkcell MaxiPLUS5
RIM
BlackBerry Bold 9790 (Bellagio)
BlackBerry Bold 9900
BlackBerry Bold 9930
BlackBerry Curve 9350
BlackBerry Curve 9360
BlackBerry Curve 9370
BlackBerry Curve 9380
BlackBerry Porsche Design P'9981
SYMBIAN
Nokia 603
Nokia 700
Nokia 701
Nokia 801T
Nokia C7 (Astound)
Nokia Oro
OTHERS
C-mii 1
C-mii 3
Casio DT-X8
Casio IT-800
Fujitsu Arrows µ F-07D
Huawei Sonic (Turkcell T20)
HTC Incredible
LG Optimus Elite
LG T530 (LG Ego)
Mobiwire Cosyphone
Motorola Droid Razr
Motorola MC75A HF
Nokia N9
Orange San Diego
Samsung S5230 NFC (GT-5230N / Star /Avila /Player One / Tocco Lite)
Samsung S5260 NFC (GT-S5260P / Player City)
Samsung SHW-A170K
Samsung Wave 578
Samsung Wave M
Samsung Wave Y
Sonim XP1301 Core NFC
TABLETS
Google Nexus 7
Panasonic BizPad
Sharp RW-T107 NFC
NFC Focus:
What is NFC and Contactless Payment?
Where can I use NFC Payment Technology?
How Secure Are Contactless Payments?
What is the future for contactless payment?