Near field communications (NFC) technology already makes it easy to pay with the tap of a card or the nudge of a compatible smartphone. So what does the future hold for contactless payments?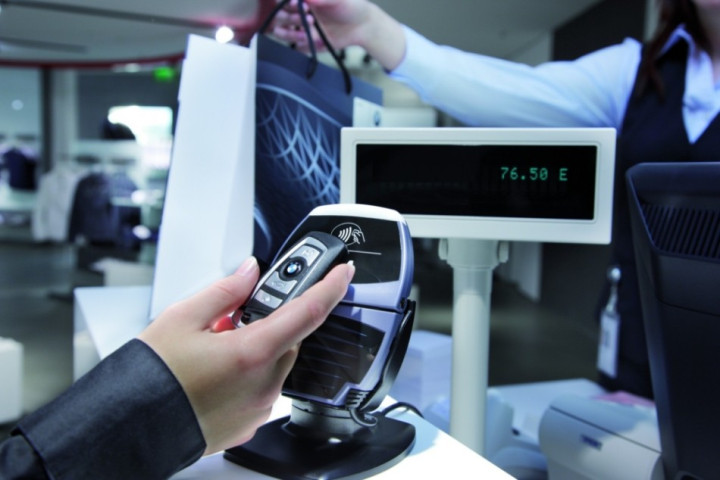 The Personalised Store
"If I've got a loyalty database and you're tapping to pay for something and then you go and sit down - using the loyalty system and linking it to the Wi-Fi system, I can send relevant offers to you there and then while you are in store.
"I can also use your information to effectively aggregate the store population at that point. I can calculate I've got 50 people in the store and 10 of them love jazz and 40 love heavy metal. So the system learns and every four songs it plays heavy metal and then it plays one jazz track.
"You are creating the environment for the demographic and that kind of store personalisation will happen more and more," said Rene Batsford, head of IT at food retailer Eat.
The Tap-to-Shop Experience
"Next-generation shopping experiences will emerge. There are numerous examples of NFC-based offerings that combine ticketing, couponing, and loyalty cards. NFC-enabled shopping can, of course, include payment, but that's only one of several possible features. NFC tags allow timely and contextualised access to information about products.
"Many brands currently use QR codes on their product packaging to engage with consumers after the purchase phase. However, retailers have an interest in leveraging the convenience of NFC at the point of sale. NFC tags placed on product shelves will enable consumers to access more personalised information about products when scanning them with an app that integrates their personal profile.
"For example, if you're allergic to nuts, the product scan could automatically detect if the product contained nuts and alert you.
"Tapping is more convenient than scanning a QR code with a camera and less prone to failure. NFC could also facilitate home shopping by allowing consumers to quickly and seamlessly order from a list of frequently used products. Tap-for-information, tap-to-add-to-basket, tap-for-coupons, and other new usage scenarios will have an increasing impact on the retail industry," writes Principal Analyst Thomas Husson in the Forrester Research report NFC: What Lies Beyond Contactless Payments.
The Festival Experience Expanded
"The Wireless Festival only just finished but Barclaycard is already planning what to do next. The trial of PayBand was so successful how do we expand it? How do we get more people to use it? What other places and environments can we take it into?
"Perhaps it can be used at other festivals or environments outside festivals and that is what we are looking at. The festival trial worked well so we could look across music at arenas, concerts, that type of thing. Will it work in a sporting environment, for example? Coincidentally, we sponsor Wembley Arena and that is a fully contactless environment.
"And then you think about gyms, to go on the sporting credentials. The way that PayBand works and how it fits on a customer's wrist it seems natural. We haven't got an agreed plan of strategy in place yet but that is what we are working on based on the feedback and the positive responses we have had from Wireless. So watch this space," said Tom Gregory, head of digital payments at Barclaycard Europe.
Interactive Feedback Apps
"The VeriFone VX 820 payment terminal has a touch-sensitive screen which means you can then build apps for that screen for customers. You can then use the few nano seconds a customer has got waiting for someone to bag up their products and making the payment to ask them a question such as how was your in-store trip today? Was the store clean and tidy?
"All of those kinds of things you really want to know and you actually want to ask customers at that point in time. To be quite honest who wants to fill out a questionnaire? No-one. So now what we are saying is the payment terminal becomes more of an interactive feedback and output system.
"You have to prime it, you don't want to ask customers about their life history - it has to be a simple question, yes or no, happy or sad. The Co-operative has done the same thing with the old LCD screens on its payment terminals. But the VX 820 is a full colour screen and it's touchscreen, so you can make it more interactive," said Eat's Batsford.
The NFC Vending Machine
"The power of NFC will be revealed in new consumer interactions. In-store NFC payments will gain broader reach and adoption over the next three to five years, but there are even greater opportunities at unattended venues. Unattended points of sale such as vending machines, parking, and transit can deliver faster and more convenient payments and there are many trials currently under way," said Denee Carrington, senior analyst at Forrester Research.
NFC in the Workplace
"NFC will expand within the enterprise. In numerous current trials, employees can use their mobile phones as badges to access their company's offices, parking and staff canteens.
"For example, employees can wave their phones in front of pre-set NFC tags before entering a meeting room to automatically switch their phones to silent and Wi-Fi access mode. More advanced systems, such as the ability to automatically integrate information gathered by NFC tags with CRM systems, are already in place.
"NFC will enable greater interactivity among multiple connected devices. Tablets like the forthcoming Android Google Nexus 7, ereaders such as Barnes & Noble's Nook, game consoles such as the forthcoming Wii U controller, and FujiFilm's photo printing kiosks will have NFC support.
"The recent strategic partnership between Intel and Inside Secure opens the door for new use cases - mostly within offices or at home and on laptops or tablets. Think of using a contactless card or phone for authentication on a laptop, as part of a security layer for consumers transacting on ecommerce websites, or to allow employees to access specific secure areas," Husson writes in the Forrester Research study NFC: What Lies Beyond Contactless Payments.
The End of Shop Tills
"I want to see it being implemented in tablet devices. If I'm a merchant why do I need a bloody expensive till? You should be able to go out, buy a tablet, download the POS software and everything's in the cloud. You commoditise that business process. If you've got contactless embedded within the tablet and it's secure then someone can just tap the phone on it to pay. Job done," said Eat's Batsford.
Must Read:
NFC Focus: What is NFC and Contactless Payment?
NFC Focus: Where can I use NFC Payment Technology?
NFC Focus: How Secure Are Contactless Payments?