A London-based NFL team could contribute more than £100m to the UK economy, according to a new report.
Deloitte's Economic Impact Of The NFL On London And The UK report claims if a franchise were to be established in the capital, which would see eight games played on these shores – most likely at Wembley Stadium – it could benefit the UK by £102m per season.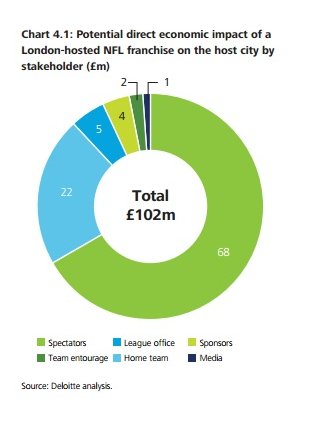 In 2013, two NFL games were hosted at Wembley and this alone added £32m in incremental spend to the London economy.
However, if this were to be expanded to four games, which it is likely to be in the coming years, that could add as much as £58m – with spectator spending expected to be in excess of £40m.
At the launch of the report, officials, which included Mark Waller, the international vice president for the NFL, spoke of the possibility of launching a franchise within the next five years, although they refused to be drawn into any definite time frame.
Sajid Javid MP, secretary of state for culture, media and sport, said that because of the ever increasing fan base in the UK, the nation will be ready and waiting for an NFL franchise.
"The NFL games at Wembley have been a huge success showing that there is a big, growing fan base for the sport in the UK. If the NFL decide that the time is right to base a team overseas, London and the UK will welcome it with open arms," said Javid.
Dan Jones, head of Sports Business Group at Deloitte, added: "Our analysis demonstrates the impact the NFL International Series has on the London economy. It is a valuable addition to the capital's calendar of major sporting events.
"If in future the NFL were to have a London-hosted franchise, we estimate that could deliver at least £100m of direct economic benefit, as well as further reinforcing London's status as one of the world's top cities for sport."
Wembley has already hosted two games this year, with the third coming on Remembrance Sunday.
A spokesperson for Hanover, the PR firm that represents the NFL in the UK, told IBTimes UK that this year's International Series - the three games held at Wembley - sold out within three weeks.
The Jacksonville Jaguars have been touted as the team most likely to relocate to the UK and in 2012, owner Shad Khan said: "In the course of the next four years we'll see if the fans are ready for more than one game. Time will tell.
"We know the London fans are sophisticated and hardcore and they want the real sport.
"We want to try this, build some fans and then let's see where we are. But there is no grand plan."