NHS bursaries: UK protests as student nurses and midwives denounce government changes
Student nurses and midwives have protested across the UK over government plans to scrap their bursaries and replace them with loans. Marches took place in London, Manchester and Newcastle over the plans on 9 January, which would see free NHS bursaries scraped in favour of a loan system.
The government says this would allow more nurses to be trained in the UK but some in the healthcare profession disagree. Student nurse Anthony Johnson said: "It is not going to improve the situation for student nurses, it is going to restrict the applicants that are able to get involved. It is going to stop mature students, and students from lower socio-economic backgrounds getting involved in nursing.
"It is going to make it more likely that we are going to have the NHS privatised. At the moment it feels like another attack against the NHS."
The plans, which were announced during the government's spending review in November 2015, would see students needing to take out loans from 2017. According to the government, these changes would allow for more financial support for home-grown nurses, as well as freeing up funds to train more students.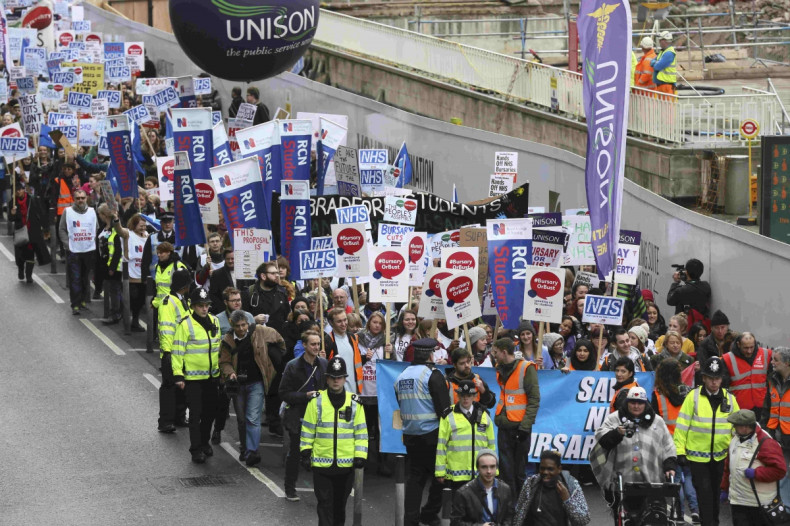 Janet Davies, Royal College of Nursing (RCN) chief executive and general secretary, said: "RCN students have today shown just how worried they are about this move and its potential effects. Student nurses and midwives are the profession's future and their voices and concerns must, and should be listened to.
"Over our 100 year history, the RCN has a long track record in the education of nurses and the government should listen to our knowledge and expertise as it consults on these ill thought out plans."
The protests took place ahead of the junior doctors' strike on 12 January. Thousands are expected to walk out across the UK, over planned changes to their contracts.