Former Arsenal and Sunderland striker Niall Quinn has no interest in re-joining another of his former sides, Manchester City, as the club's new chief executive.
The Premier League leaders have been without a CEO since Garry Cook quit the position in September following a series of emails mocking the illness of Nedum Onuoha's cancer-stricken mother.
Quinn stepped down from his role as chairman of Sunderland in February, however, after resuming his role as pundit, the former Arsenal man says a role behind the scenes at the Etihad Stadium is not for him.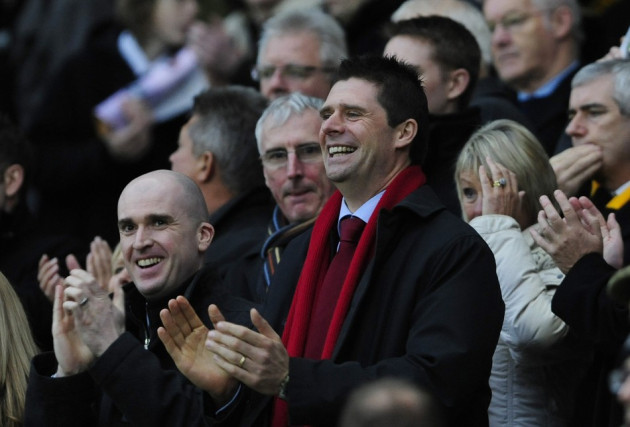 "What they need is someone who can travel the world and make Manchester City as big as, or certainly challenging with, the big clubs," Quinn, who made 204 appearances for City, said.
"Sunderland is the only club I've done more than play for," added Quinn.
"The club was in pretty bad shape when I went in there so I felt as if I had to do it.
"It wasn't a chosen career path, it arrived at me. I got stuck in and did it.
"It can be unforgiving and pretty thankless at times because you can have a great week off the pitch, and then something goes wrong on a Saturday, you get well beaten, and the confidence in you has waned.
"I had six great years at Sunderland doing that but it was a natural end for me. I'm not quite sure what the next step is."
After joining the club as a youngster, Quinn spent seven years at Arsenal, scoring 20 goals in 94 games, a spell which also included winning one of only two major trophys in his career, the League Cup in 1987.
Limited appearances with The Gunners saw him move to City in 1990, where a six-year tenure saw him notch 78 goals in 220 games, prior to his final move in English football, joining Sunderland in 1996.
The former Republic of Ireland international then formed a deadly partnership with Kevin Phillips as The Black Cats stormed into the Premier League under Peter Reid.
Upon retiring, Quinn headed a deal to buy Sunderland and subsequently became chairman, a role which despite a brief spell as manager, saw him serve for six years before stepping down three months ago.
His immediate football future is uncertain, but is likely to be filled of talk of a return to either of his former clubs Arsenal or City given the emotional pull of the pair.