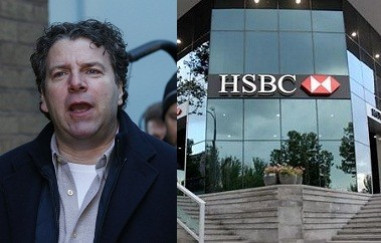 Sources close to the investigation into fraudster Nicholas 'Beano' Levene's opaque dealings believe he could feature on HSBC data relating to 4,000 wealthy clients of its Jersey operation, which have been handed to HM Revenue and Customs by an anonymous whistleblower.
Levene, the former City stockbroker also known as "Beano", was jailed for 13 years on Monday for cheating investors out of £32 million. Southwark Crown Court heard that over £300 million had passed through his business between 2005 and 2009.
IBTimes UK can reveal that Levene was a major client of HSBC. "Beano certainly had an HSBC Jersey account and did significant business through it," according to a source who has investigated Levene's financial affairs.
Levene had dozens of accounts at UK and Israeli banks. However he was such a valued customer of HSBC, Europe's biggest bank, that he was extended a £20 million overdraft facility. By the time his Ponzi scheme collapsed it had been maxed-out.
Lawyers and researchers who have studied the fraudster's financial dealings describe a complex web of bank accounts and shell companies stretching from Panama, Gibralter, Israel, Switzerland, Jersey and northern Cyprus.
Following his jail sentencing the Serious Fraud Office ordered a confiscation order that permits regulators to confiscate assets obtained by those convicted as a result of their criminal conduct.
According to a Telegraph investigation those identified on the list are Daniel Bayes, a drug dealer who is now in Venezuela; Michael Lee, who was convicted of possessing more than 300 weapons at his house in Devon; three bankers facing major fraud allegations, and a man once dubbed London's "number two computer crook".
The list identifies 4,388 people holding £699 million in offshore current accounts and they are also likely to have billions of pounds more in investment schemes. Several celebrities and other well-known figures, as well as criminals and drug dealers, are understood to be identified in the client data.
Doctors, mining and oil executives and oil workers are also heavily represented in the list. More unexpectedly, a greengrocer in the East End is understood to have more than £80,000 in his HSBC current account in Jersey.
Although some of the individuals may have declared the offshore holdings, HMRC is currently understood to be comparing the new documents with tax records to identify anomalies.
One investment manager has more than £6 million in his account, while the average amount held is £337,000. Under Britain's non-domicile rules, those with foreign roots only have to pay tax on money entering Britain - provided it is earned abroad. However, more seriously for HSBC, dozens of people with no obvious legal source of substantial income are holding large sums in Jersey, said The Telegraph.
The Daily Telegraph understands that the whistleblower who has obtained the information also has further lists of offshore HSBC clients with addresses outside Britain, including 602 in Israel, 527 in France, 333 in Spain and 117 in the US. In total, the leaked HSBC Jersey client list is thought to contain the names and addresses of 8,474 people. More than half are based in this country.