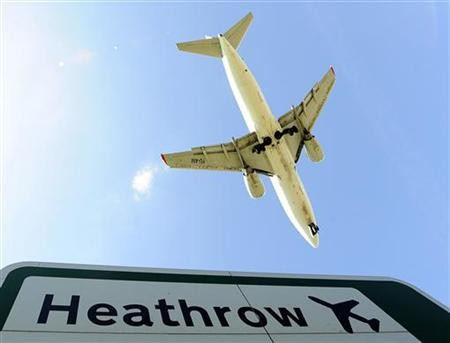 Nick Clegg has joined the growing debate about expanding Heathrow airport by saying the coalition should stand firm against building a third runway.
The deputy prime minister insisted that flights from Heathrow could be moved to other airports serving London such as Luton, Stansted and Gatwick to reduce pressure on heathrow. He did concede, however, in an exclusive with the Guardian, that ministers were concerned that Britain might be losing out to business on the mainland.
"Our position in the coalition is clear," he said. "It is written in the coalition agreement. We are not going to give the go-ahead to a third runway at Heathrow. When people say we are losing out on new routes to new parts of Asia and China and Latin America, of course that is something you take seriously.
He spoke up after the argument over expansion at Heathrow was heightened by comments by Tim Yeo, the chair of the Commons environment committee, who challenged David Cameron to re-think his stance on the issue and asked if he were a man or a mouse. Plans for expansion were also ruled out by Justine Greening, the transport secretary.
"We are lurching from instant solution to another. One moment it is Boris Island, now it is a third runway. No doubt people will be saying we should rebuild Stansted from scratch," said Clegg.
"There are lots of ideas. What we need to do as a government is sensibly say we are going to stick to our coalition agreement but we are not sticking our heads in the sand. We recognise it is an issue.
"At the moment you have one airport, Heathrow, that is bursting to capacity and three others - Gatwick, Stansted and Luton - which are under-capacity. There are a lot of flights going into Heathrow that aren't necessary for its hub status. If you are being logical about this you would shift a lot of the current flights out of Heathrow to the other three airports, freeing up that hub capacity for Heathrow," he explained.