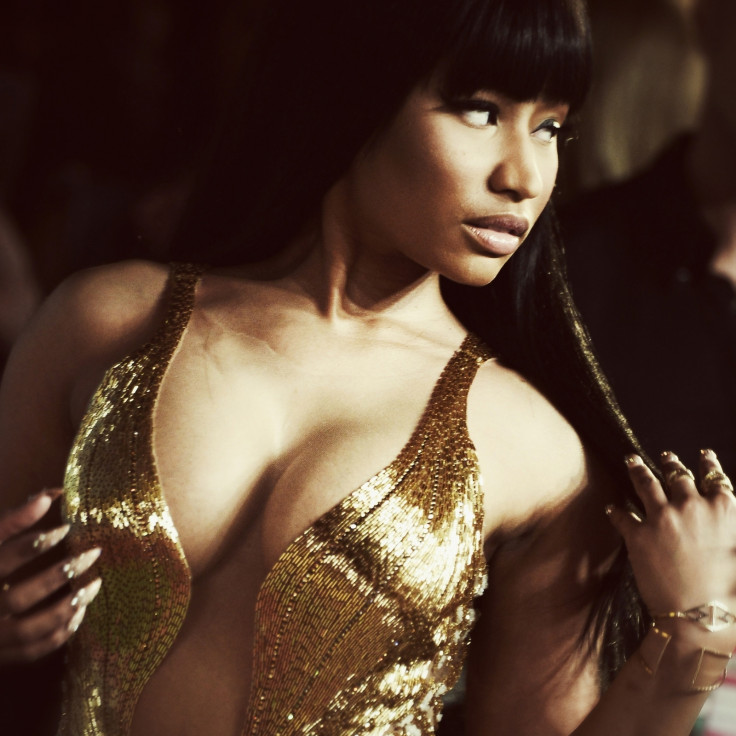 Nicki Minaj is a pro when it comes to enticing her fans on social media, be it by donating money to students, releasing her peppy songs or promoting products. But on 25 September (Monday), she stunned her 83 million followers by sharing a racy post on Instagram.
For the picture, the rapper went braless and wore a net top, revealing her boobs on social media. "Here's looking at you kid," she captioned the photo while looking seductively towards the camera in the sexy selfie. She strategically placed her hands to hide her nipple, but the sensuous quotient of the photo sent her fans wild, making them exclaim, "You are a goddess."
"Looking very sexy with your lingerie," one of her followers gushed about her beauty. "Cheers to the most beautiful woman in the world," added another. Some chose to notice only the Anaconda hitmaker's ample assets. "It's so hard to look at your face," one Instagram user joked while another said: "Super sexy big boobs."
The 34-year-old rapper is currently busy for her upcoming album, which she claims will be "a billion times more epic" than her previous creations. "I think this era will definitely be the most memorable and the most impactful of my career yet," she told Dazed.
"I can't say if I'm 50 percent, 80 percent or 10 percent done, because I don't know. Tomorrow, I might walk into the studio and decide that I don't like anything I've done in the last six months. Or tomorrow I might walk in and feel like the whole album is done. There's so much beauty in not knowing," Minaj added.
Teasing her collaboration with Young Thug, the rapper said: "I'm going to go even deeper than I went with The Pinkprint, because I have a lot to talk about."