Scotland could hold a second independence referendum in autumn 2018 ahead of Britain leaving the European Union, First Minister Nicola Sturgeon has suggested. Sturgeon said late next year would be "common sense" date for Scotland to hold a second referendum before Brexit officially takes hold.
Scotland as a country voted overwhelmingly 62% to 38% to remain in the EU during last year's referendum. Since the result, Sturgeon said she plans to "take all possible steps" to ensure the country remains in the EU, describing Brexit as "democratically unacceptable" for Scotland.
Speaking to the BBC, Sturgeon believes autumn 2018 will be a good time to hold a second IndyRef but said no decision on whether to hold a vote has taken place.
She added: "Within that window, of when the outline of a UK deal becomes clear and the UK exiting the EU, I think would be common sense time for Scotland to have that choice, if that is the road we choose to go down."
Scottish Conservative leader Ruth Davidson said Sturgeon's comments proved the SNP was "hellbent on taking Scotland back to another divisive independence referendum and will use any excuse to do so".
Davidson added: "It is deeply irresponsible for the First Minister of Scotland to cast this cloud of uncertainty over our future.
"People in Scotland don't want a second referendum, and the SNP doesn't have a mandate for one. Rather than cast our future under further doubt, Nicola Sturgeon needs to provide some certainty for Scotland and rule it out."
According to a Ipsos/Mori poll for STV News, voters are completely split on how they would vote in a new referendum, with those saying they would back it rising two points to 50%, with the other 50% of voters (-2pts) saying they would back Scotland remaining in the UK.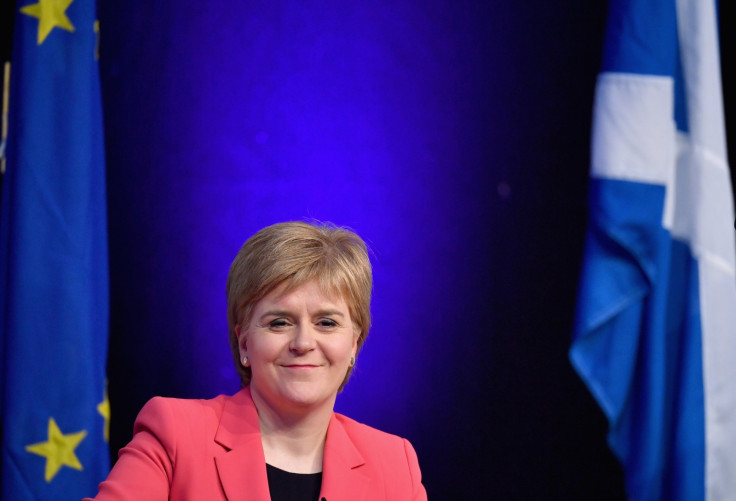 Another referendum in Scotland looks doubtful as they would have to be approved Theresa May beforehand. The Prime Minister has spoken about her desire to "strengthen and sustain the bonds that unite us" and has rejected any ideas of potentially allowing Scotland to leave the UK in the run up to Brexit.
Speaking at the Scottish Conservative conference in Glasgow, May also accused the SNP leader of treating Scottish politics like a "game" by constantly talking up a second Scottish Referendum.
May added: "People in Scotland deserve a First Minister who is focused on their priorities – raising standards in education, taking care of the health service, reforming criminal justice, helping the economy prosper, improving people's lives."
In the 2014 Scottish Referendum, Scotland voted to remain part of the UK by 55% to 45%.