Sam Bailey may have booked her place in the X Factor final, but it was sultry Nicole Scherzinger who stole the show.
The Haiwaan beauty left onlookers awe-struck as she displayed her powerful singing range and her undeniable sex appeal.
Wearing a slinky, gold shimmering dress, she looked like a pop queen, as she unwittingly took the shine off Sam in what seemed liked an impromptu sing off.
Performing the track And I'm Telling You from the Dream Girls movie, Scherzinger showed them all how it was done.
While Sam matched her note for note, the camera was firmly fixed on the former Pussycat Doll. The picture of physical perfection, the backless dress showed off her hourglass figure to full effect, but it was her spiralling notes and sassy style that had everyone in raptures.
Wowed by Scherzinger's impressive vocal range, celebrities and fans alike took to Twitter to express their astonishment at her show-stopping performance.
The Saturdays' Rochelle Humes, wrote on Twitter: "Sorry but @NicoleScherzy just owned the heelllllll out of that wowww go girrlll"
This Morning host Phillip Schofield exclaimed: "Bloody hell! @NicoleScherzy & @SamBaileyREAL really extraordinary moment! Tough choice tonight! #XFactor"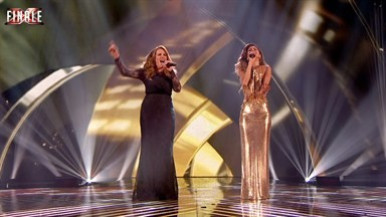 The 35-year-old reality show judge has previously performed with her acts on the show, most notably with James Arthur and Jahmene Douglas in the 2012 live final.
While her performance with Douglas was plagued by mike problems that left her visibly disgruntled, the singer seemed jinxed by technical hitches yet again.
As she and Bailey belted out the ballad, their rendition was marred by muffled muttering in the background.
It has been reported that Jedward's chatter had been picked up during the live broadcast, as the double act waited in the wings to perform with the other X Factor rejects.
Fans of the show turned to Twitter in incredulity.
sonions89 writing: "Why when @SamBaileyREAL and @NicoleScherzy was sing their beautiful duet I could hear @planetjedward in the background!"
Dismissing the glitch, Scherzinger took to Twitter to comment on the duet, writing: "... @SamBaileyREAL It was brilliant and an honour sharing the stage with u tonight."
With Luke Friend voted off the show, Sam Bailey is the bookies favourite to win and while her talent is undeniable, her outstanding moment with Scherzinger might just have helped her win the show and a place in X Factor history.
Watch The X Factor Final on Sunday 15 December at 7.30pm on ITV1.