Nigel Farage triumphantly quit as Ukip leader after fulfilling his career-long ambition of steering the UK out of the European Union. He stepped down saying "I want my life back" after achieving his political ambition but stopped short of returning to the post after the 2020 general election.
Addressing the media and Ukippers at the Emmanuel Centre in Westminster, Farage said the party's best days were ahead of it and predicted further tumultin both British and European politics in the aftermath of the Leave vote at the EU referendum. "You haven't seen the last country that wants to leave the EU," he added.
IBTimes UK picks five things we learned from Farage's final appearance as Ukip leader.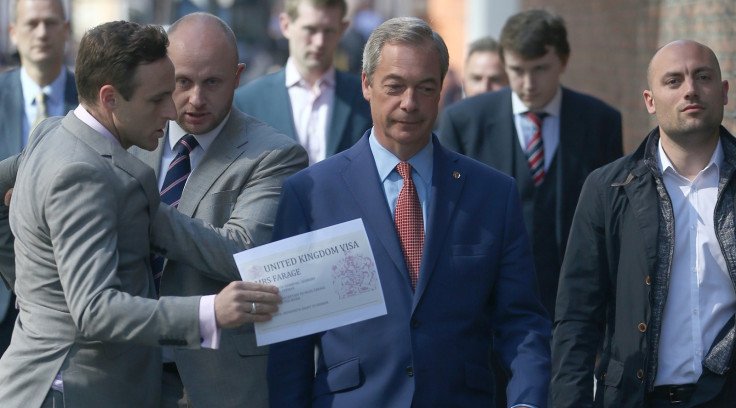 Battle weary Farage had enough
June 23, Farage said early on in his speech, "was the day everything changed". "My aim in being in politics was to get Britain out of the European Union," he added, saying it had taken a "huge chunk" of his life and at a cost to him and those around him. "What I'm saying today is I want my life back, and it begins right now."
Regrets. I've had...none
Farage's tenures as leader – the first of which started in 2006 – have not been without their controversies. He said leading the party was "tough at times" but "all worth it". Asked if he had any regrets he said none: "The only people in life who make mistakes are people who do things," he said of his reign.
Big mouth to strike again
He may have stepped down as leader but don't expect Farage to go into hiding. He will campaign for the party at the 2020 general election and remains as an MEP for another two years. If anything he feels relinquishing power will allow him to speak freely. "What will happen now is that in the future I won't be constrained. The real me will come out."
Douglas Carswell solid bet for next leader?
Having described his own personal travails as leader, he joked it was a "terribly good idea" that Douglas Carswell, Ukip's only MP, succeeded him before adding: "I would not put much money on it if I were you." On the contest to become leader he said "may the best man or woman win".
House of Lords not on bucket list
"Oh gosh, I would not have thought so," Farage said when asked if his ambition was to wind up in the House of Lords. "I have not even thought about it." How about standing to become an MP? "That is not top of my bucket list I have to tell you – it's been a long journey."