Nigeria's Makoko slum which is raised on top of the Lagos lagoon is home to nearly 100,000 people. The majority of residents are fishermen, living on stilted houses along the Lagos lagoon, moving between their houses by canoe. In November 2015 a new school opened, offering free education to local children, most of whose parents fish for a living and who, like most of the megacity's 21 million residents, lack a reliable electricity and water supply. The Makoko Floating School is pyramid-shaped, floating and capable of withstanding the waterways' extreme weather, and has become a beacon of hope.
Built with locally sourced wood and floating on hundreds of recycled plastic barrels, The Makoko Floating School has room for 100 pupils and throws a spotlight on the poverty that pervades the commercial hub of Africa's most populous nation.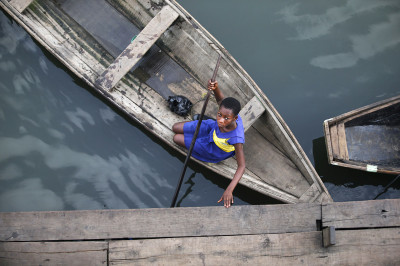 The Makoko Floating School is aid-funded, allowing the chance for young people to experience social mobility, whose water-based way of life is threatened by climate change as well as rapid urbanisation.
The school, designed by Nigerian architect Kunle Adeyemi and taking three years to build, can adapt to changing water levels and was built specifically to withstand the storms and floods that are common in the four-month-long rainy season.
The school's director, Shemede Noah, said the new site is a major improvement on the old one, which was built on reclaimed land and has been damaged by high tides in the peak rainy months of October and November.
"They started building the school and everybody was saying that it's unbelievable, we can't wait to see it, it can't happen," he said.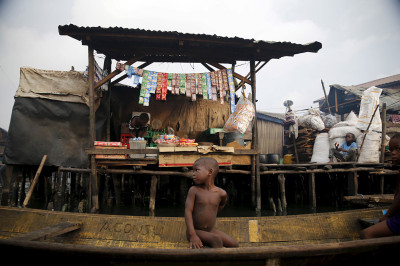 The school has 47 pupils so far and they, like other children in the lagoon, travel to school by canoe. Inside, in yellow and blue uniforms, they sit at wooden tables against a backdrop of walls covered in brightly coloured maps, historical timelines and other learning guides.
"I have never seen a school floating on water before. This is the only one that I've seen that is why I forced my parents to take me to this school. I like the school." 11-year-old Omodobu Emmanuel said "I like it because it's built on water and is a cordial environment to learning and clapping and jumping and singing."
Local government officials have recognised the success of the school and there are now plans to incorporate the Floating School's design in other districts.