Nigeria elections: Opposition leader Muhammadu Buhari ahead of Goodluck Jonathan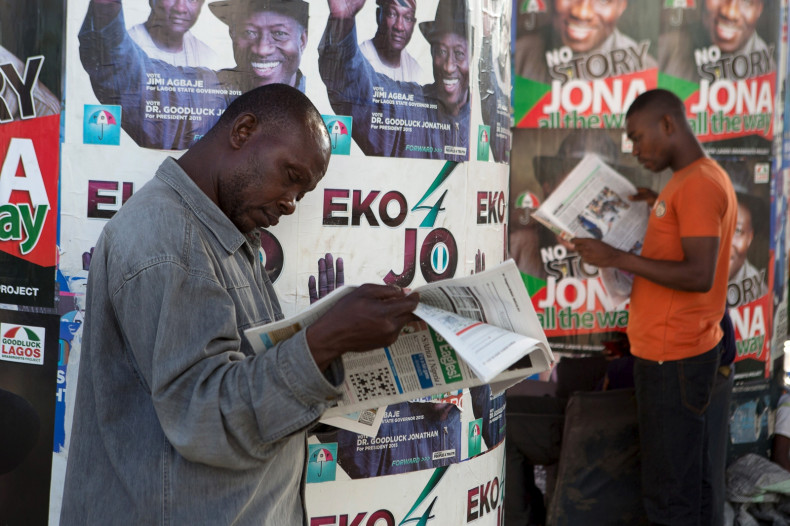 Nigerian opposition leader and former general Muhammadu Buhari has secured an early lead in the closely-fought presidential race as preliminary results begin to emerge.
Buhari, 72, who is making his fourth attempt at the presidency, is leading by more than two million votes with nearly 75% of the states counted raising the possibility of defeating incumbent President Goodluck Jonathan.
The counting was officially suspended by Nigeria's Independent National Electoral Commission (INEC) overnight and is set to resume shortly. Buhari has secured a majority in 13 of the 21 states where results have been declared.
According to the election commission, Buhari's All Progressives Congress (APC) is leading in states such as Oyo, Kogi, Kwara, Katsina, Kaduna, Osun, Kano, Jigawa and Ondo.
The governing People's Democracy Party (PDP) led by Jonathan has secured a majority in states such as Nasawara, Ekiti, Enugu, Abia, Imo, Akwa Ibom, Plateau and Anambra.
The election is being billed as the tightest presidential race ever in the 54-year post-independence history of the Western African nation. Buhari and Jonathan faced each in the 2011 election as well.
Alongside the announcement of the results, Jonathan met independent observers from the regional blocs Ecowas and the African Union behind closed-doors. Jonathan claimed foul play in Kano, Jigawa, Gombe, Kaduna, Bauchi, Katsina, and Kogi states alleging vote-rigging.
"We wish to take this opportunity to make it clear to the Nigerian public that according to the figures made available to us, we are ahead in the presidential elections by at least two to three million votes," Femi Fani-Kayode, PDP's chief publicist in the election campaign, told reporters in Abuja.
"We have our own Situation Room and we have collated all our figures from the various polling booths, wards, local government areas and states in the federation."
"Despite the propaganda of the opposition, we are confident of victory. They and all other stakeholders can be rest assured that we will accept nothing less than the announcement of an election result that is truthful and that reflects the true will of the Nigerian people. Any attempt to manipulate figures or to rig us out from any quarter will be firmly resisted."
The election results will be crucial in Africa's most populous nation's fight against Boko Haram's Islamist insurgency as the organisation has pledged allegiance to the Iraqi extremist group Islamic State (Isis).