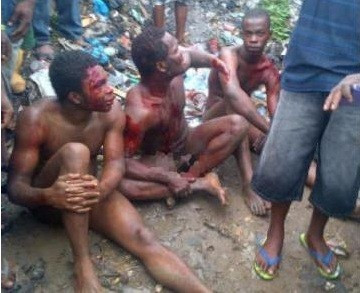 The father of one of the murdered University of Port Harcourt (Uniport) students in Nigeria has claimed that his son was set up so that he could be murdered.
Mr Steven Biringa, whose son Chiadika was amongst the four victims striped, beaten and burnt alive by a mob in the Nigerian state of Omuokere Aluu, insists that his son was labelled a thief to give assassins a reason to take his life.
Biringa told the Osun Defender newspaper: "I have always said that if you have seen me, you have seen my child. My child was full of humility. The issue of stealing or being an armed robber is unimaginable. He is dead and would not be here to defend himself.
"They [the murdered students] were supposed to be trained to take charge when we leave the stage. So why would somebody get up one day and give them a bad name and kill them? It's just like giving a dog a bad name in order to kill it.
"It is not just killing the young men, but the manner which they did it is more annoying. I know my son will die one day just like you and I, but why now and why should it be in the most unacceptable form?"
Biringa, from Obowo Local Government in Imo State, also branded claims that Chiadika was a thief as "spurious" because he always asked his parents for whatever he needed.
"I don't see Chiadika going to pick somebody's things. It is unfortunate that he is being labelled a thief or an armed robber or whatever name they must have given to him.
"But I know that till tomorrow, if I meet him after this planet earth, I am sure he would remain what he has always been. Chiadika is never a thief and will never be a thief."
Chiadika and his fellow victims Ugonna, Ilyod and Tekana were hunted down by vigilantes on 5 October after being accused of being members of a gang of armed robbers. They allegedly stole BlackBerry phones and laptops.
Police officials have confirmed that thirteen people, including an Aluu community chief, have been arrested in connection with the murders.
Meanwhile, villagers and residents of the community have been forced to flee the River State community after protests over the murders of the four students turned violent.
Students, led by the South-south and South-east zones of the National Association of Nigerian Students (NANS), went on the rampage in the community and burned the houses, shops and cars of those they believed responsible for the murders.
Anti-riot police and soldiers have also have been deployed to the Univeristy, which the authorities say will remain shut until further notice.