The Nigerian police has denied killing pro-Biafan protesters during a march in Onitsha, Anambra state, in the early hours of 2 December. Oleehkukyu Ali, spokesperson for the police in Anambra, told IBTimes UK police forces were deployed because the protest was disrupting the peace.
Pro-Biafans hold regular marches across several states in south-eastern Nigeria calling for the independence of territories that constituted the Biafran Republic, established in 1967 and reannexed to Nigeria in 1970, following a civil war that claimed between one and three million lives.
Rallies have intensified since Nnamdi Kanu – director of Radio Biafra and the leader of the Indigenous People of Biafra (Ipob) – was arrested in Lagos in October on charges of criminal conspiracy, intimidation and belonging to an unlawful society. He pleaded not guilty.
Ipob members told IBTimes UK that during the 2 December protest – in which an estimated 20,000 people took part – Nigeria's Joint Military Task Force (JTF) allegedly shot dead at least nine people and injured 18. However, Ali denied the allegations and said: "Recent processions were very peaceful, but last Wednesday the procession was marred by violence. At 10pm on Tuesday [1 December] I was sent to speak with the protesters as they had barricaded the highway in Anambra.
"People had blocked the road that stretched up to the Bridge Head. Firemen and police cleared the road but at that point demonstrators blocked another part of the highway. We told them to evacuate the road and when they said no, we cleared the road because people had been stuck in traffic for hours."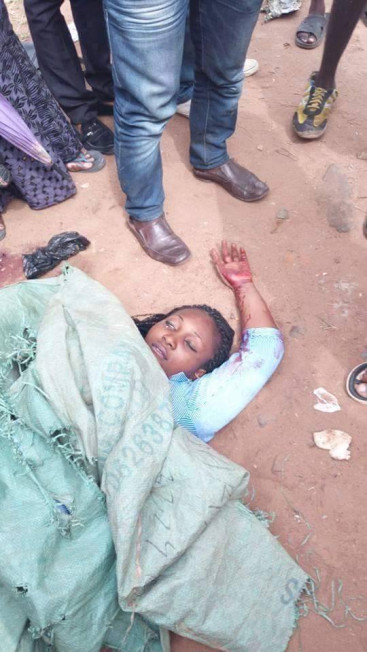 Ali went on alleging that the protesters carried out arson attacks on nine trucks and at the central mosque in Onitsha. However, Ipob and Massob (Movement for the Actualization of the Sovereign State of Biafra) denied the allegations and maintained that acts of violence were not carried out by pro-Biafrans.
After being repeatedly asked whether the police and army killed or injured any of the protesters, Ali said: "There was no record of deaths, actually one police member was injured and later died at the hospital. We are not after Pro-Biafrans, we did not shoot, we only cleared the road. Pro-Biafrans should inform the police before they intend to hold marches, so that we can liaise and provide security too and can make sure infiltrators will not hijack situations. But every time, they defy these instructions."
This is not the first time that pro-Biafrans accused the police of violence. In an exclusive report by IBTimes UK, Amnesty International claimed that there was "credible evidence that pro-Biafran separatists in Nigeria are targeted by police". The police however, have always denied the allegations.
Massob and Ipob
Massob and Ipob have claimed several times they are not related. Both movements accuse each other of violent propaganda and actions. According to Ipob members, violent actions blamed on Massob smear pro-Biafrans' reputation and are used by the government to claim the whole movement is violent.
The Nigerian government has deemed Massob as an extremist group. Its leader Ralph Uwazuruike was arrested in 2005 on treason charges. He was released two years later.
Uwazuruike announced on 6 December the group had been renamed Biafra Independent Movement, BIM. He explained the decision was necessary following violent actions by internal dissidents.
He said during a press conference in Owerri, capital of Imo state: "The change in name became absolutely necessary because of the sad introduction of violence by the disgruntled dissidents and this is at variance with the non-violence stance of Massob over the years."
Uwazuruike also alleged he had recruited Kanu in 1989 and appointed him as the director of Radio Biafra. "He started preaching hatred and brainwashing the youths. Massob sacked him." Ipob denies the allegations.
Nigeria up close: Check out our Flipboard magazine