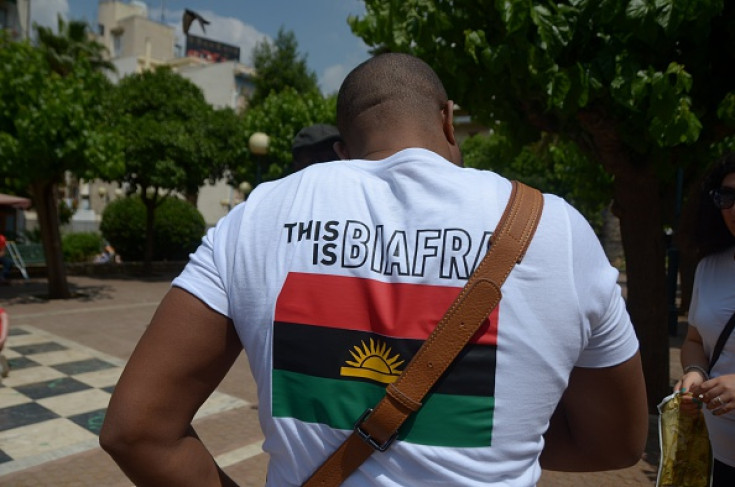 Some traders in states across south-eastern Nigeria have declared they do not want to be associated with the ongoing pro-Biafran movement. A statement by the South East Markets Amalgamated Traders Association stated that traders disassociated themselves from the Movement for the Actualization of the Sovereign State of Biafra (Massob), and the Indigenous People of Biafra (Ipob).
Massob, Ipob and other pro-Biafran groups call for the independence of territories that constituted the Biafran Republic, established in 1967 and re-annexed by Nigeria in 1970, following a civil war that claimed between one and three million lives. Pro-Biafrans often stage rallies - which they call evangelisations - across states in the south-east, calling for independence.
Demonstrations have increased since controversial Radio Biafra director and Ipob leader Nnamdi Kanu was arrested in Lagos earlier in October. Kanu, who is currently held by the country's security service (DSS), was apprehended on charges of criminal conspiracy, intimidation and belonging to an unlawful society. He pleaded not guilty.
Traders explained they decided to publicly state their position on the Biafra issue after they had been repeatedly asked by pro-Biafrans to close their markets in the area in solidarity with the protests.
However, some pro-Biafrans told IBTimes UK that the statement was fake and was used by people who oppose the independence of Biafra "to destroy the struggle for freedom".
Government's position on pro-Biafran movement
Pro-Biafrans claim they hold peaceful demonstrations and accuse the police of violence against demonstrators. Amnesty International said in an exclusive report by IBTimes UK there was "credible evidence that pro-Biafran separatists in Nigeria are targeted by police".
Police have denied these claims, arguing that pro-Biafrans hold violent rallies that disrupt peace. Public relations officer for the police in Anambra state, Oleehkukyu Ali, also said the police have nothing against pro-Biafran groups as long as they behave in a peaceful way.
"Our country provides freedom of association, speech and movement. But groups have to behave peacefully. Police in Anambra are operating a very open policy and leaders of groups should engage with us and let us know what they are doing so we are aware of protests," said Ali.
The Nigerian government told IBTimes UK that it does not consider the separatist movement a threat to the current leadership and defined pro-Biafrans as an "insignificant number of frustrated people who are not a threat to the existence of Nigeria".
Army spokesman, Colonel Sani Usman, told IBTimes UK: "The message to the Biafrans is clear: The army and police might use the Rules of Engagement (ROE) on security operations to the fullest depending on the circumstances."
---
Nigeria up close: Check out our Flipboard magazine
---