IBTimes UK has hosted a debate on whether the Biafran issue could be resolved peacefully with the cooperation of the Nigerian government. David Otto, CEO of UK-based global security provider TGS Intelligence Consultants and Immanu-el Yahgozie, editor at Biafra 24, discussed their views on the issue as thousands of pro-Biafrans have been protesting in several state across south-eastern Nigeria.
Pro-Biafrans call for the independence of territories that constituted the Biafran Republic, established in 1967 and reannexed to Nigeria in 1970, following a civil war that claimed between one and three million lives. Supporters of the Biafra cause hold regular marches − which they call evangelisations − across several states in southern Nigeria, mainly inhabited by the Igbo ethnic group. Protests have intensified in the past few days in Nigeria and other states since Radio Biafra director Nnamdi Kanu was arrested.
Pro-Biafrans accuse the police of violence. However, police have denied these claims, arguing that people advocating for Biafra hold violent protests disrupting peace.
Amnesty International said in an exclusive report by IBTimes UK that there was "credible evidence that pro-Biafran separatists in Nigeria are targeted by police". Meanwhile, the Nigerian government told IBTimes UK that it does not consider the separatist movement a threat to the current leadership and defined pro-Biafrans as an "insignificant number of frustrated people who are not a threat to the existence of Nigeria".
Army spokesman, Colonel Sani Usman, told IBTimes UK: "The message to the Biafrans is clear: The army and police might use the Rules of Engagement (ROE) on security operations to the fullest depending on the circumstances."
Usman referred to a statement by General Officer Commanding the 3rd Division of the Nigerian Army, Hassan Umaru, released earlier in November. Umaru said: "The Nigerian Army would like to send an unequivocal warning to all and sundry, more specifically to all those committing treasonable felony and arson as well as wanton destruction of lives and property.
"It is the duty of an officer or soldier to ensure the enforcement of law and order in conjunction with other security agencies, troops are duty-bound to intervene in any situation to avoid a breakdown in peace and stability of an area where they are deployed."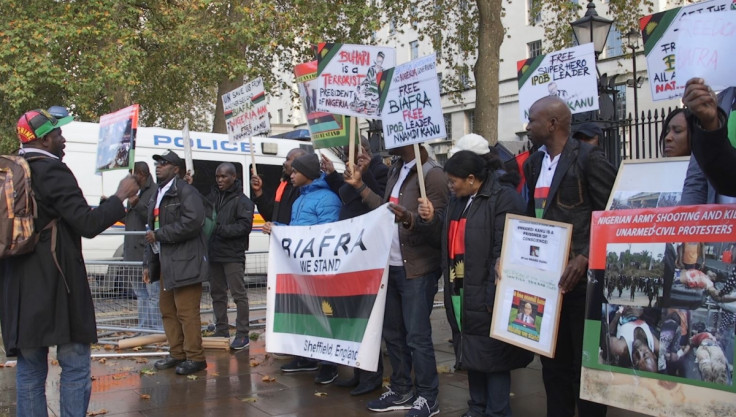 ---
Nigeria up close: Check out our Flipboard magazine
---