At least nine people have allegedly been killed and 18 injured by the Nigeria's Joint Military Task Force (JTF) during a pro-Biafra protest in Onitsha, Anambra state. Thousands of members from the Indigenous People of Biafra (Ipob) and other pro-Biafrans took to the streets of Onitsha on 2 December calling for the release of their leader Nnamdi Kanu.
At least 20,000 demonstrators blocked the Niger Bridge, connecting south-eastern Nigeria with the rest of the country, causing a traffic jam for several hours. The JTF is believed to have opened fire on protesters after they refused to move from the bridge.
In a statement published on Twitter on 2 December, the Nigerian Police Force warned Ipob and Massob (Movement for the Actualization of the Sovereign State of Biafra ) against disrupting peace.
Public relations officers for the police in Anambra state and the federal headquarter in Abuja were not immediately available for comments regarding the alleged shootings.
Defence spokesperson Rabe Abubakar told IBTimes UK: "The police can comment on the ongoing situation in Enugu and Anambra. Generally speaking, nobody is above the law and authorities cannot allow some people to cause mayhem on the streets. No nation can tolerate that."
Abubakar added that the protests in Onitsha disrupted traffic as well as businesses. He said: "The army and the police are ensuring that people are protected and we cannot allow such things to continue and degenerate. We have to protect the lives and properties of innocent people. The police are now in charge of the operations and they are doing a very good job."
Abubakar made the remarks days after army spokesman Colonel Sani Usman told IBTimes UK the army will use the Rules of Engagement (ROE) on security operations "to the fullest, depending on the circumstances".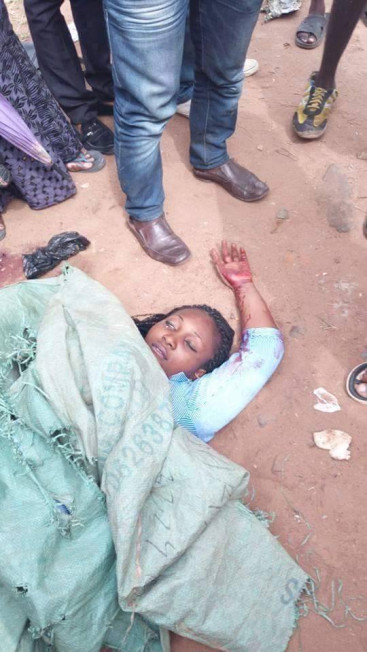 However, pro-Biafra demonstrators argued their march was peaceful and the JTF shot indiscriminately on demonstrators. Several Ipob members confirmed to IBTimes UK that nine people were shot dead.
A coordinator of the Ipob movement, who spoke on condition of anonymity, told IBTimes UK that the protests will continue until Friday. He said: "[Pro-Biafrans] have vowed to set up tents, cook, dine and play sings on the high way."
Pro-Biafrans are no longer on the Niger Bridge, but rallies are continuing in Onitsha.
Immanu-el Yahgozie, editor of UK-based Biafra24,told IBTimes UK: "The Nigeria army killed nine unarmed Biafrans, one of whom was 21-year-old Nkiruka. We at Ekwenche institute and Biafra24 condemn this act of terror by the occupational government of Nigeria.
"Killing of Biafrans is unacceptable and we continue to say to the entire world Biafra makes neither peace or war with the occupational state of Nigeria," he continued.
"The world must act and stop this by organising a referendum before another Syria is built in Africa."
Pro-Biafrans' demands
Ipob and other pro-Biafran groups call for the independence of territories that constituted the Biafran Republic, established in 1967 and reannexed to Nigeria in 1970, following a civil war that claimed between one and three million lives.
Pro-Biafrans often hold marches – which they call evangelisations – across states in south-eastern Nigeria. Rallies have intensified since Nnamdi Kanu – director of Radio Biafra and the leader of Ipob – was arrested in Lagos in October on charges of criminal conspiracy, intimidation and belonging to an unlawful society. He pleaded not guilty.
Government's position on pro-Biafran movement
Pro-Biafrans often accuse the police of violence against demonstrators. Amnesty International said in an exclusive report by IBTimes UK there was "credible evidence that pro-Biafran separatists in Nigeria are targeted by police".
Police have denied these claims, arguing that pro-Biafrans hold violent rallies that disrupt peace. The Nigerian government told IBTimes UK that it does not consider the separatist movement a threat to the current leadership and defined pro-Biafrans as an "insignificant number of frustrated people who are not a threat to the existence of Nigeria".
In November, state leaders in south-eastern Nigeria decided to set up a committee to mediate dialogue between pro-Biafra and the federal government.
Following a meeting in Enugu, capital of Enugu state, the leaders released a statement, which read: "After a compassionate review of the recent Massob/Ipob agitation in the country, it was resolved that a committee be set up to dialogue with Massob/Ipob as well as with the federal government with a view to finding a lasting solution to the issue."
---
Nigeria up close: Check out our Flipboard magazine
---