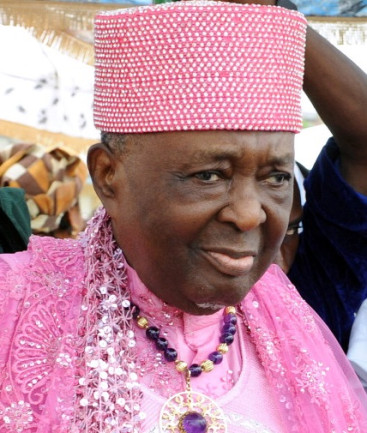 Thousands of Nigerians gathered in the city of Ife in Osun state to pay homage to the late Ooni (king), Oba Okunade Sijuwade, also known as Olubuse ll.
The funeral took place among rumours that some people – between seven and 14 according to some reports – could be buried alive with the king as part of the Yourba tradition.
Sijuwade, regarded as the king of the Yoruba people, one of Nigeria's largest ethnic groups, died in July after being flown to London to receive medical care. But his death was only announced on 12 August. The announcement triggered speculation that human sacrifice would take place to honour the late monarch.
Some Nigerian websites also published pictures of an alleged "abobaku" – which translates from Yoruba language as "one who dies with the King" – was on the loose after learning Sijuwade had died. The reports triggered a discussion on Twitter, with some people commenting ironically on the issue and others calling for the end of the practice, believing that it was still in place.
But the Guardian Nigeria reported that some sources close to the king had denied any allegation of human sacrifice. They claimed that, although the practice is common in Africa, it is no longer part "of the occupant of the revered stool of Ooni". The source continued: "It is true that we have rich, complex customs and traditions, but this cannot be translated to mean we sacrifice human beings as part of rites of passage for our rulers. People should disregard this wrong impression about us."
Nigerian journalist Gani Kayode Balogun also slammed human sacrifices reports. He said: "I was so sure someone was just being funny, I mean, anybody with a passing knowledge about Yoruba history would surely get the joke. But days later, the story was still trending, and somehow, some very senior, and well respected journalists also join the fray."
Sijuwade became king of Ife in 1980 and he was regarded as one of the most influential Yoruba leaders. According to a report by the BBC, he was buried after a private inter-religious ceremony at his palace attended by both Christian and Muslim leaders and dignitaries. Sijuwade was not buried in a coffin as, according to the Yoruba, death is just a journey during which people meet their ancestors.
After learning of his death, Nigeria's President Muhammadu Buhari said the late king had assured a place in history due to "his long and worthy service to his people and country as well as his notable contributions to the development of his community, state and country as a leading businessman, administrator and inspirational traditional ruler". Buhari added Sijuwade lived a fulfilled life and left "worthy legacies for his successor to build upon".