Nigeria: Army arrests six following deadly pirate attack in conflict-ridden Niger Delta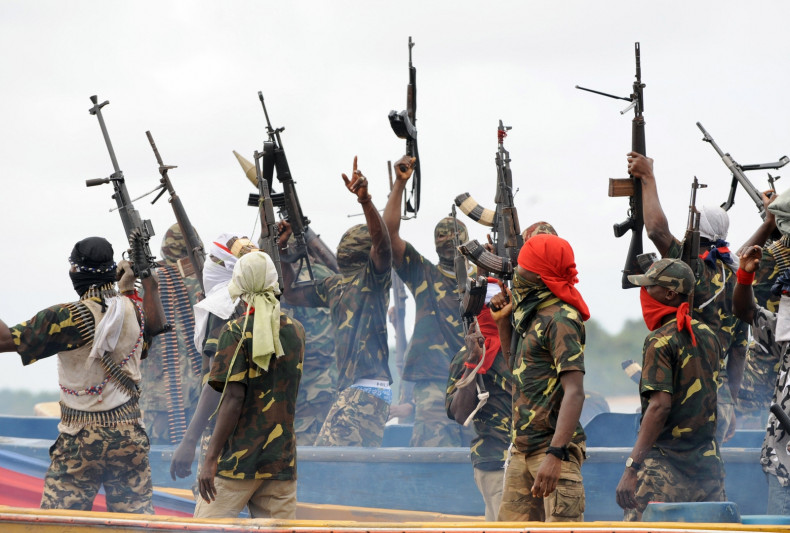 The Nigerian army has arrested at least six militants during a raid at their camp in the oil-rich Niger Delta. The raid was carried out after four soldiers and one policeman were killed at an army base in a suspected pirate attack on Friday ( 7 August).
Militants in four speed boats attacked the Joint Task Force (JTF) military base in Nembe, in the southern Bayelsa State. The attackers are also suspected of having carried out another raid on a community in the neighbouring Rivers State. It is not yet clear whether the militants belonged to a specific group of the Niger Delta, marred by oil thefts, piracy and kidnappings for ransom.
Nigeria
Capital: Abuja
Population: 174,507,53 (2013 census)
Largest cities: Lagos, Kano, Abuja
Major ethnic groups: 21% Yoruba, 21% Hausa,
18% Igbo
Languages: English, Hausa, Igbo, Yoruba
Religion: 50% Muslim, 40% Christian, 10% other
Currency: Naira (N) 1N = £0.0033; US$0.0050
"The militants' camp was destroyed by JTF troops while six suspects comprising of four male and two female [suspects] were arrested. Large quantities of arms and live ammunition were also recovered from the camp," a statement by JTF was quoted as saying by AFP.
JTF is part of the Nigerian Armed Forces and it was created in the Niger Delta to counter the ongoing political unrest that rose during the 1990s over oil production. Violence erupted due to tensions among local ethnic groups, who felt they were being exploited and, unlike foreign oil corporations in the region, they were not benefiting from resources present in the areas they inhabited.
Tensions escalated and culminated in attacks and the birth of militant groups such as the Niger Delta People's Volunteer Force (NDPVF), mainly composed by the Ijaw, the Niger Delta's largest ethnic group. NDPVF advocates for a greater control over petroleum resources, a greater share of the oil wealth as well as the independence of the Delta region.
The group has been accused of illegally taking oil from pipelines and making profits by selling it to other countries. NDPVF defended this practice, known as "oil bunkering", arguing that local people do not receive adequate profits originating from oil production and sale.
Violence among different militant groups is common in the Niger Delta. In 2003 and 2004, NDPVF engaged in a violent conflict with another militant group, the Niger Delta Vigilante (NDV). The conflict ended after the Nigerian government intervened, supporting the NDV, and prompting the oil crisis started that year to further deepen.
Current Nigerian President Muhammadu Buhari has launched a major anti-corruption investigation targeting, among other things, the state-run Nigerian National Petroleum Corporation (NNPC). The leader replaced NNPC's whole board and banned 113 vessels from lifting crude oil from some 27 Nigerian ports amid suspicions the vessels had been implicated in illicit activities.