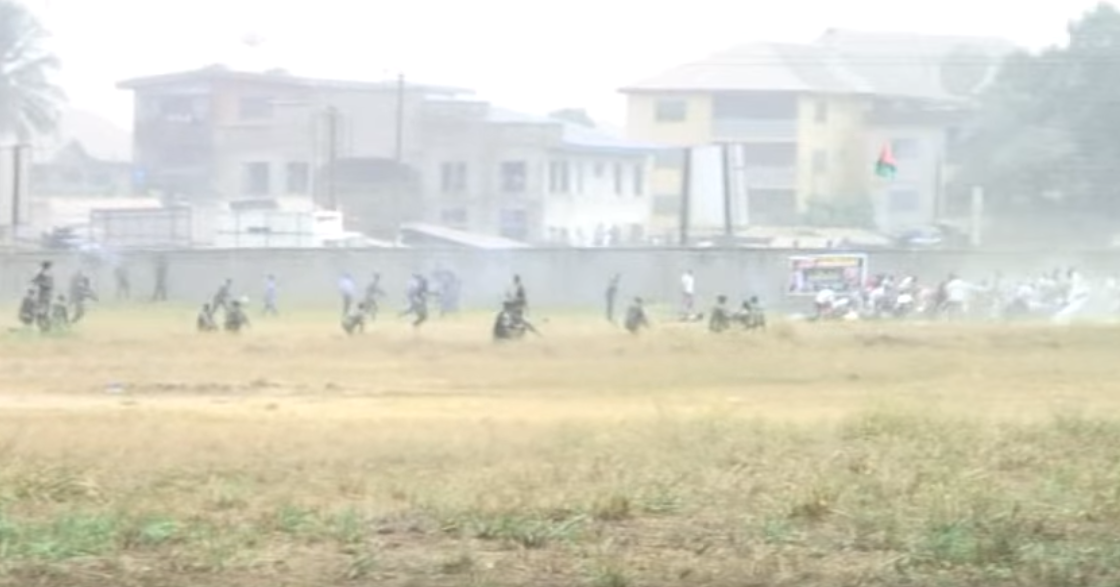 A video purportedly showing Nigerian security forces attacking pro-Biafran protesters during a demonstration in Abia state is circulating on social media. Activists claimed the video shows members of the police and army surrounding pro-Biafran protesters during a 9 February protest in Aba city in which at least 10 demonstrators were allegedly killed.
The footage shows Nigerian soldiers firing teargas at protesters while some demonstrators are beaten with pro-Biafran flags used during the march by men believed to be part of the police . It is not clear from the footage whether security forces also fired live bullets. However, some protesters are seen lying on the floor while others show injuries believed to have been caused by bullets.
Clifford Iroanya, global coordinator of the Indigenous People of Biafra (Ipob) group, told IBTimes UK the video allegedly shows "the undeniable massacre of defenceless Biafrans at Aba by President Muhammadu Buhari's murderous agents".
IBTimes UK has contacted the Nigerian army, police and the spokesperson for President Muhammadu Buhari for a comment on the video, but has not received a response at the time of publishing. Amnesty International was also not immediately available for a comment.
In a previous interview with IBTimes UK, Nigerian defence spokesperson Rabe Abubakar denied the police and army killed demonstrators. However, he also said security forces had to intervene as some pro-Biafrans were allegedly carrying weapons. "The issue of security forces shooting some people should not come up because I don't know where you found that they were harmless," he said.
"To my own definition, someone who is carrying dangerous weapons, including guns, is dangerous and is not allowed to do so. Yes, they have the right to protest, but the Nigerian constitution prohibits people or groups from threatening the stability of the country.
"We are here to protect people anywhere in the land and we cannot in any way authorise escalation of violence. We have one Nigeria and nobody can undermine its unity, it is a constitutional prohibition to call for a separation and it goes against the continuity of our country."
Pro-Biafran demonstrators were protesting against the detention of Nnamdi Kanu, director of Radio Biafra and Ipob's leader. Kanu was arrested in Lagos in October 2015 and is standing trial for treasonable felony charges.
Pro-Biafrans call for the independence of the Biafran territories forcibly annexed to Nigeria during the British colonisation, which ended in 1960. In the aftermath of the alleged killings, Ipob announced pro-Biafrans had "activated" their right to self-defence following alleged prolonged violence by Nigerian forces against peaceful protesters.
Iroanya told IBTimes UK that the modus operandi pro-Biafrans will now adopt in their fight for independence will not be disclosed to the public until further notice. "We will be defending ourselves against genocidal actions of Buhari and his agents," he alleged. "And more importantly, we are not terrorists, as Nigeria will soon try to convince people."
---
Nigeria up close: Check out our Flipboard magazine
---