Human rights organisation Amnesty International has accused the Nigerian security forces of killing around 150 peaceful supporters of Biafra – a separatist group that aims to create its independent state, Biafra Republic, from the West African nation.
The organisation claimed in its 60-page report on Thursday (24 November) that the military had fired live ammunition without warning to disperse members of the Indigenous People of Biafra (IPOB) group between August 2015 and August 2016.
Amnesty's report is based on interviews with 193 people, 87 videos and 122 photographs from that duration. It claims that troops and the police used "arbitrary, abusive and excessive force to disrupt gatherings".
However, the Nigerian officials have denied Amnesty's allegations and said the human rights body is trying to blemish their name. The security forces of Africa's most populous nation claimed that they did not attack people holding protests.
Sani Usman, spokesman of the army, said the separatists had killed five policemen at a protest in May and attacked both military and police vehicles.
"The military and other security agencies exercised maximum restraints despite the flurry of provocative and unjustifiable violence," Usman was quoted as saying by Reuters.
Supporting Usman, Nigeria Police Force spokesman Don Awunah, said officers "always abide by the law" and hold to best practices.
"This reckless and trigger-happy approach to crowd control has caused at least 150 deaths," Makmid Kamara, interim director of Amnesty International Nigeria, who called on authorities to begin a probe into the matter, said.
In the past few years, the supporters of the IPOB have held a series of protests demanding an independent state ­– Biafra – in the southeast of Nigeria, which is home to the Igbo people.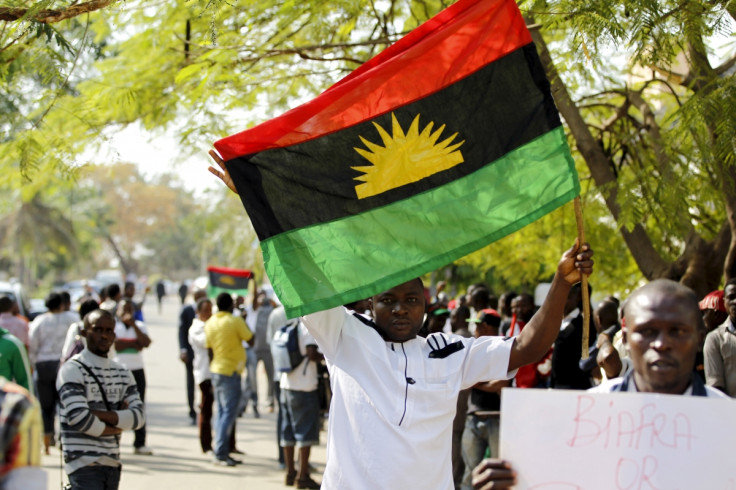 The first secessionist feeling sparked during the Nigerian civil war that happened almost 50 years ago. The war killed at least a million people in the aftermath of Nigeria's 1966 coup.
It flamed again in 2015 after the arrest of IPOB leader Nnamdi Kanu. Kanu was detained on charges of criminal conspiracy and having association with an illegal society, which prompted his supporters to hold protests that Amnesty claimed were dispersed with live ammunition.