A draft letter written by Beatles star John Lennon to return his MBE has been valued at £60,000. The owner of the letter, who wishes to remain anonymous, recently discovered it in the sleeve of a record bought at a car boot sale 20 years ago.
The anonymous owner took it to a 'Memorabilia Day' at The Beatles Story in Liverpool, where celebrity auctioneers Julien's Auctions estimated its worth at £60,000.
"I am returning this MBE in protest against Britain's involvement in the Nigeria-Biafra thing, against our support of America in Vietnam and against [his single] Cold Turkey slipping down the charts," read the letter.
It is believed Lennon never sent this draft of the letter because of the "because of the smeared ink", according to music memorabilia expert Darren Julien, but instead rewrote it and delivered it, along with the MBE, via his chauffeur, Les Anthony, to the Queen in 1969.
Biafra war and pro-Biafran movement today
The Biafran territories were forcibly annexed to modern-day Nigeria during British colonisation, which ended in 1960.
Following two coup d'etats and the 1966 massacres of Igbo people in northern Nigeria, the contested Biafran territories, under the leadership of military officer and politician Chukwuemeka Odumegwu Ojukwu, seceded from Nigeria and declared independence on 30 May 1967.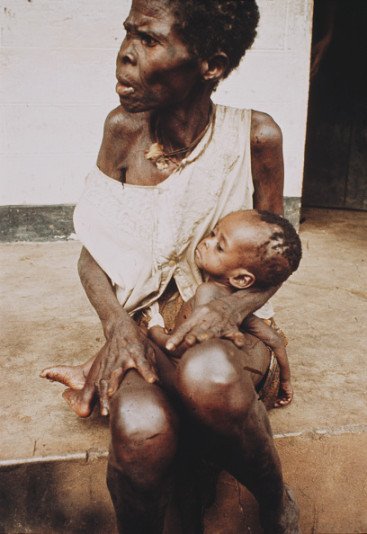 The establishment of the Republic of Biafra sparked the civil war. The Nigerian government – supported by the UK – fought against the separatists. They imposed strict blockades on food and medicines in Biafra and attacked hospitals and facilities run by humanitarian organisations, causing the deaths of between one and three million people.
The extent of starvation in the Biafran territories during the war sparked international condemnation of the Nigerian government.
Independence calls have gained renewed momentum following the arrest of Nnamdi Kanu, one of the leaders of the movement, in October 2015. Kanu, leader of the Indigenous People of Biafra (Ipob) and director of UK-based Radio Biafra, is standing trial on six counts of treasonable felony charges.
The Nigerian government has always maintained that Nigeria's unity was a priority for the country and that although peaceful pro-Biafran protests were welcome, demanding the breakaway of the Biafran territories went against the constitution.
Nigeria's security forces have also been accused of violent acts against "unarmed" and "peaceful" pro-Biafran protesters, claims the authorities strongly deny. In an exclusive report by IBTimes UK, Amnesty International confirmed that Nigerian security forces had used excessive force against pro-Biafran protesters on some occasions.
A spokesperson for the British government told IBTimes UK: "The position of the UK government during the Biafran War is a matter of historical record. The UK government's position, which reflected the Charter of the Organisation of African Unity, was to recognise the borders laid down at independence."
---
Nigeria up close: Check out our Flipboard magazine
---