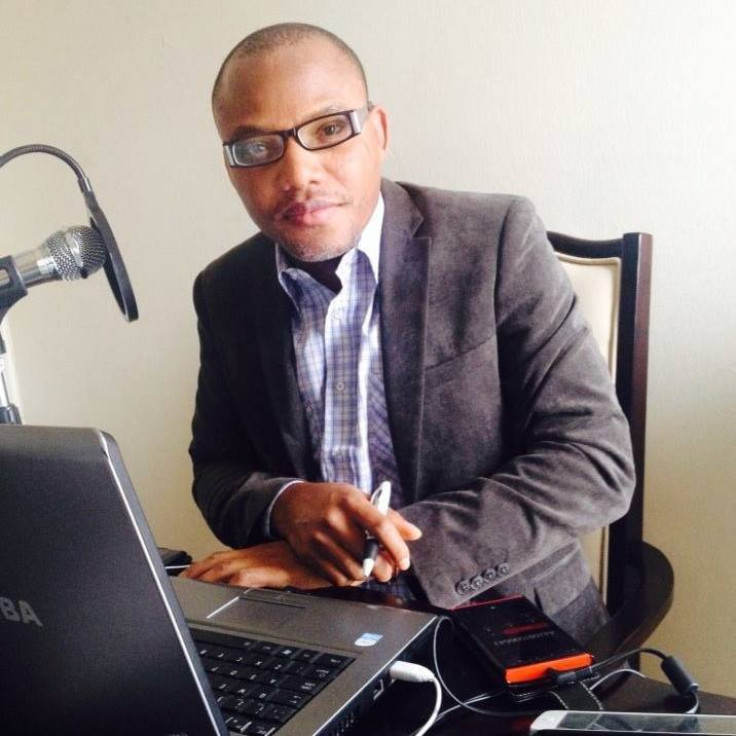 The leader of a separatist movement advocating for the independence of Biafra from Nigeria has reportedly been arrested in Lagos. The Biafran territories were independent from Nigeria from 1967 until 1970 and re-annexed to the African nation following a civil war that killed between one and three million people.
It is believed that Nnamdi Kanu, leader of the Indigenous People of Biafra (Ipob) and director of London-based radio station Radio Biafra, was apprehended by the Department of State Services (DSS) after he had flown from the UK, where he lives.
According to a Twitter handle affiliated with Radio Biafra, Kanu was arrested at the Golden Tulip Essential airport hotel on Sunday (18 October). IBTimes UK contacted the DSS, but has not received a response at the time of publishing.
The spokesperson for the Nigeria defence, Rabe Abubakar, was unable to confirm the arrest. An Ipob member who spoke with IBTimes UK under condition of anonymity said on Monday morning (19 October): "I can confirm to you that Nnamdi Kanu was detained illegally by the Nigerian DSS agents. He has not been released."
The arrest was also confirmed by David Otto, CEO of UK-based global security provider TGS Intelligence Consultants, who told IBTimes UK: "I can confirm that Nnamdi Kanu was arrested in Lagos last week and may still be in custody. The reason for the arrest is not clear." Otto added that Kanu might have been arrested in relation to his role in the activities of Radio Biafra, which the Nigerian government slammed as illegal. The government claimed in July that the National Broadcasting Commission (NBC) had managed to jam its signal.
An Ipob member, Ifeanyi Chijioke, wrote a letter on behalf of the group calling for world leaders to put pressure on the Nigerian government to release Kanu, according to Sahara Reporters. The letter reads: "It's in record that Nnamdi Kanu is a law abiding leader who has disciplined indigenous people of Biafra to strictly abide by local and international law.
"This is a gross provocation of indigenous people of Biafra and, as endangered people, would only wait shortly for due process and immediate release of her leader. The world should know that arrest of Mazi Nnamdi Kanu is the making of monster in indigenous people of Biafra and to prevent and save lives must world leaders stand up to their responsibility," the letter continued.
The alleged arrest came as the Nigeria police are cracking down on pro-Biafrans amid allegations that they are hosting violent protests. Earlier in September, dozens of pro-Biafrans were arrested after the inspector general of police, Solomon E Arase, released a statement urging authorities to clamp down on people who behaved violently across the country. It read: "This directive becomes imperative owing to recent activities of members of the Movement for the Actualization of the Sovereign State of Biafra [Massob] and the Indigenous People of Biafra [Ipob] in some parts of the country."
A perceived increase in pro-Biafran activities was also confirmed by the Anambra State commissioner of police, Hassan Karma, during another interview with IBTimes UK. He said: "It is people taking laws into their hands and it's the same situation that generated Boko Haram today in the north east. People started like this, even in Niger Delta, where militants started kidnapping people for extortion."
However, those who support the Biafra cause argued such claims only aim to smear the reputation of pro-Biafrans who, they say, are not and will never be a violent movement. Pro-Biafrans also accuse the police of being violent against the separatists. The police denied the claims, while rights group Amnesty International said in an exclusive report by IBTimes UK that there is "credible evidence that pro-Biafran separatists in Nigeria are targeted by police".