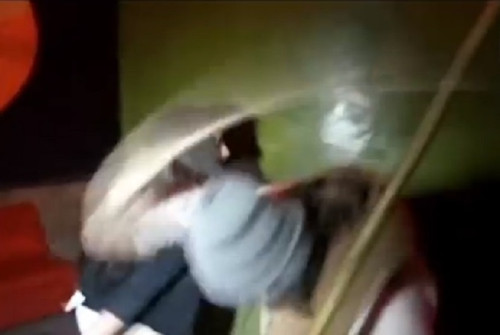 Shocking footage of men whipping women as they fled a Peruvian nightclub has been released by the vigilante group the Decentralized Committee of Urban Rounds of Cajamarca.
The film, which was shot by the group and released to local media, shows a disturbance in a nightclub in Peru over the weekend.
It highlights the violence and inequality faced by women in Peru, with discrimination against women still high in the patriarchal society, despite being outlawed in 2000.
Hooded and masked members of the vigilante group are filmed hitting women as they leave the club with long sticks and shoving them.
Around 50 women, all scantily dressed, appear terrified as they try to flee the gang, with male staff members trying to help them also being attacked by the men – in one part of the film, staff members are forced to do press-ups as they are whipped by gang members.
Local media says the group undertakes these sorts of sting operations to eradicate prostitution and crime.
Prostitution in Peru is legal for women over the age of 18 as long as they register with municipal authorities and carry a health certificate. Brothels are also legal but must be licensed.
Gender inequality is rife in Peru, where women are paid less, have fewer employment opportunities and are often abused without repercussions. Education levels for women in Peru are poor, with over a third illiterate, compared to a tenth of men.
According to UK-based charity Project Peru, 61% of rural women and 49% of urban women have suffered from domestic violence in their lifetimes.