Ian Somerhalder is believed to have parted from girlfriend and Vampire Diaries co-star Nina Dobrev. The 34-year-old Somerhalder plays Damon Salvatore on the television show, to Dobrev's Elena Gilbert. The couple dated for more than three years.
A report by US Weekly quotes a source as saying Somerhalder and the 24-year-old Dobrev are "consummate professionals" and "will continue to work together and remain best friends, which is where the relationship started".
Somerhalder posted a note on Twitter, which could be construed as relating to his break-up with the Bulgarian-born Canadian model and actress. The American wrote: "A THOUGHT FOR TODAY: People change and forget to tell each other. -Lillian Hellman, playwright (1905-1984)."
Somerhalder and Dobrev have kept their relationship largely private and only acknowledged it publically in 2011. Dobrev, in an interview with Seventeen magazine, said she her priority had always been to maintain professionalism.
"I didn't want to be dating one of my costars -my goal on the show was to be professional," she said then, "But sometimes you can't help who you have a connection with, and you can only fight it for so long -which I did for a really, really long time."
The finale for the fourth season of The Vampire Diaries airs on 16 May. The television show returns for a fifth season in February next year.
Somerhalder and Dobrev Split over Christian Grey Role and Fifty Shades of Grey?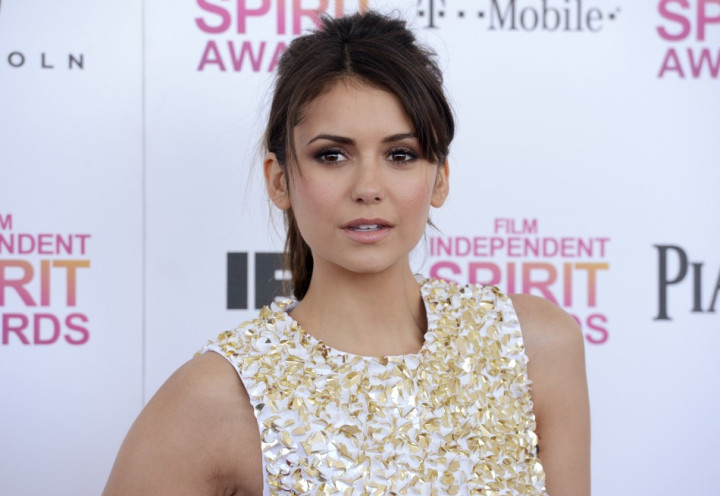 Somerhalder is a long-standing favourite for the role of Christian Grey, in the anticipated film adaptation of EL James' erotica novel Fifty Shades of Grey. And it was that role, and the fact he will have several intimate scenes in the film, that could have led to his split with Dobrev.
"She doesn't want her man, covered only by a sock, dry humping an actress covered by strips of tape. That's why she believes she should be his leading lady. But here's the thing. Ian doesn't like to be limited. That's why he flew out of New York right around the time she flew into it," Celebrity Dirty Laundry reported.
Maxim Hot 100 2013
Meanwhile, Dobrev made it to the Maxim Hot 100 list for the second year in a row. The actress came in at 84th position last year but shot up the charts to 48th this time around.
READ: Maxim Hot 100 2013: Miley Cyrus Beats 99 Women and Manti Te'o's Fake Girlfriend [PHOTOS]