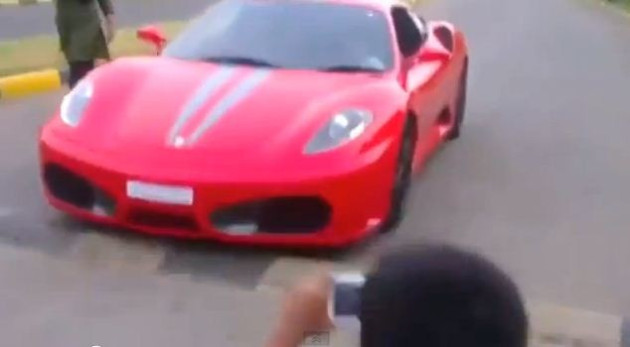 A man in the southern Indian state of Kerala was arrested by police after he allowed his nine-year-old son drive his Ferrari.
Mohammed Nisham, has been reportedly charged with child endangerment and permitting a minor to drive (the legal driving age in India is 18). He was later released after paying a bail of £60.
The case came to the attention of authorities, after a video was posted on 10 April in YouTube, showing the boy and his five-year-old brother, in the passenger seat, driving Ferrari F 430 on a private road. Children on the sides of the street were videotaping and following the red Ferrari.
"Had been promising him his Ferrari drive since 6 months. So gave him d Ferrari keys on his 9th bday.dat was on April 6. He's a pretty confident and careful driver, he is used to driving most of my cars...even my Lamborghini, Bentley coupe, Carrera turbo etc," Nisham wrote.
However, the boy's mother, Amal Nisham, defended saying that they do not see anything wrong with letting a child drive a powerful and very expensive sports car.
"It was his ninth birthday, and since he was insisting for months, we allowed him to drive the Ferrari. He is a cautious and confident driver. I am proud of him," Amal Nisham, the mother of the boy, told Indian news television channel NDTV, "It's only because my son is driving a Ferrari that it is being made an issue. He has got talent in him. He likes driving cars and drives them well. I think we were just boosting him. We were trying to build the talent he has got."
She said that the boy has driven Lamborghini and Bentley too.
"I am proud of him. He drives well. It is not easy for a child to achieve such a feat at this young age," Amal said.