Shocking cases of children dying after being left in hot cars have been widely reported this summer. In a bid to prevent further tragedies, car company Nissan is releasing a 'first-of-its-kind' safety system that alerts drivers if the car detects something has been left on the backseat.
The Rear Door Alert system will be introduced to the 2018 Pathfinder and will remind drivers to check the backseat as they walk away from the car with a series of honks as an audio alert.
"By drawing your attention back to the vehicle, once you've walked away, you are more likely to recheck the back seat than with a visual alert alone," said Elsa Foley, an industrial engineer at Nissan.
The RDA works by detecting whether a rear door was opened and closed before and after a journey. If the system detects that the rear door was not reopened when the trip had ended, the driver will hear a series of 'chirps' from the horn as well as a visual warning displayed on the dash.
It's not the first time the motoring industry has had a backseat alert but it is the first use of a horn as an audio alert.
"The idea is if you open a rear door, whether to put a child or a package in the rear seat, the vehicle will help alert you when you get to your destination that you may want to check the rear seat," said Marlene Mendoza, mechanical engineer at Nissan.
Nissan reveals that both Foley and Mendoza are mothers and decided to work on an idea to remind drivers to check the back seat.
"We pushed each other along and knew we were on the right track one morning when Marlene discovered she had left a pan of lasagna in the back seat of her car one night after coming home after a long day at the office," said Foley. "The worst thing was the car smelled for days, but it made me ask myself, "what if that had been something else back there?""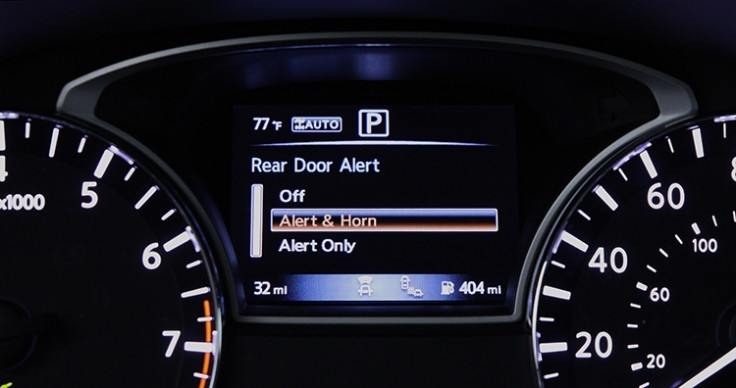 While the inspiration for the back seat alert is slightly more trivial, the potential applications for the safety system is far more serious as it could help prevent tragic loss of life of children or pets as a result of vehicular heatstroke. According to safety organisation Kids and Cars, over 36 children die in hot cars each year.
Of course, this system will not be applicable to everyone - especially those who do not have kids or pets. It could, however, just be useful for the forgetful who leaves a package or workbag in the back. If none of these are you, car owners who may be weary of another system bleeping at them will be relieved to know Nissan has said the system can be toggled to be turned off.