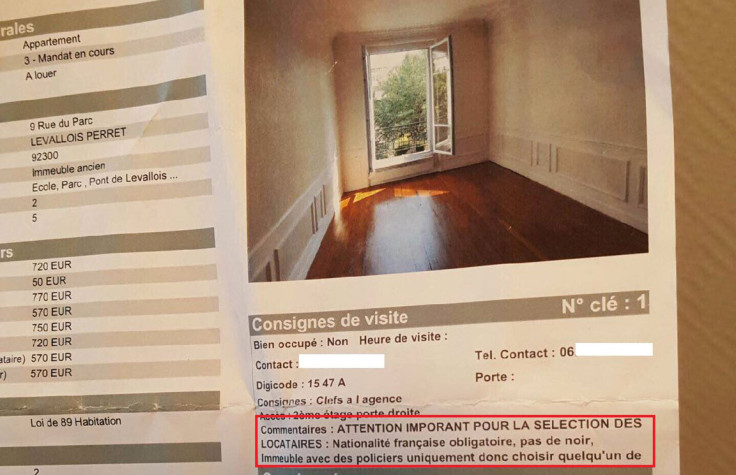 A real estate agency in France has come under fire after publishing a racist ad in which it stipulated that "no blacks" could apply for a property rented by a private landlord.
A real estate agency, in the Seine-Saint-Denis northern suburbs of the capital, Paris last month published a racist advertisement for the rental of an apartment in Levallois-Perret, in which it outlined conditions for the selection of future tenants. The ad read: "Important note for the selection of tenants: French nationality mandatory, no Blacks. Building with police officers only".
The discriminatory document, which was redacted for the Laforêt estate agents in charge of renting out the flat, was discovered by a young man identified only as Moustapha when he was viewing the flat.
The young man described to Le Parisien how he challenged the estate agent after discovering the document. "He gave me very vague explanations, saying that it did not come from him. At the time, I was very shocked," he said. "I am not naive, I know that this kind of discrimination exists but there, it is really explicit and (openly) displayed."
Moustapha published the ad on Twitter on 25 November, demanding that Laforêt, one of France's largest estate agency and lettings network, commented, and asking two human rights organisations, SOS Racisme and Défenseur des droits for their opinion.
The agency's head office, which was accused of taking weeks to respond, published a statement on Twitter on 26 December after users slammed the practice using #laforet.
It read: "We are appalled by this information and find totally unacceptable and inappropriate. The management and agencies of Laforêt's branch network vigorously condemn any form of discrimination. Values such as equality, diversity and respect for others are part of our core principles. We will undertake the necessary actions to ensure that this does not happen again. We present our most sincere apologies."
The manager of the agency in Seine-Saint-Denis, Laurent Balestra, also rejected responsibility for the ad, saying it was the fault of a "collaborator who is no longer part of the company".
Balestra told Le Parisien: "She wrote this ad under the pressure of the (property) owner, it is really an isolated case. I am sorry, I am ashamed of what is happening. We've stopped working with this owner". Since the scandal, the manager said he contacted several organisations "to put in place training to raise awareness of discrimination and ensure that this does not happen again".
Accused of having imposed the discriminatory conditions for the selections of tenants, the landlord denied the allegations, and warned of her intention to file a complaint for defamation.
"I can't explain what is going on. I am absolutely not racist, I have three Maghrebis and a Black (sic) as tenants. In addition, I no longer work with this agency since the end of October, "the landlady told Le Parisien.