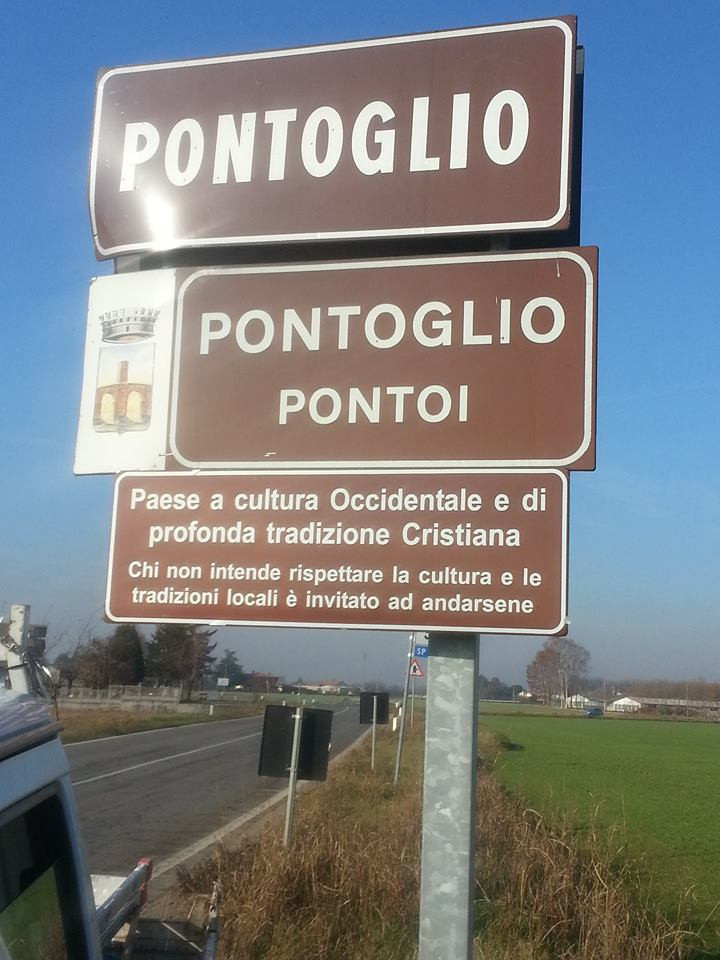 An Italian municipality has put up road signs urging those who do not respect its "Christian" values to leave, in a move that has sparked widespread criticism. The warnings appeared at access points to Pontoglio, a village of about 7,000 people near the northern city of Brescia, in compliance with a council decision backed by the centre-right mayor, Alessandro Seghezzi.
"Pontoglio, town of western culture and deep Christian tradition," the caption read. "People unwilling to respect local culture and tradition are invited to leave." Although not expressly stated, the messages were understood to be directed in particular at Muslims, with local residents reportedly dubbing them "no-Islam signs".
However the town administration denied the initiative was racist. Councillor Paolo Bocchi claimed the panels provided visitors with "cultural and historic information", Il Corriere della Sera reported. "Our culture is based on mutual respect. From women to music, art, habits and traditional rites," the council said in a bizarrely worded statement on social media.
Many thought otherwise. "I thought Italy was a secular country with no state religion and was not aware that women could be listed as part of a town's customs and traditions," Brescia deputy mayor Laura Castelletti wrote on Facebook.
Numerous netizens vented their outrage on Twitter. "The deeply Christian inhabitants of Pontoglio urge those who don't share their values to leave. Such a beautiful Christian welcome," wrote user Filippo Casini.
Others commented on the council's Facebook page comparing the administration to the Taliban and describing the initiative as "ridiculous" and "embarrassing". "Welcome back to the middle ages," wrote one user.
The controversy comes as right-wing parties have increased their anti-Islam and anti-immigration rhetoric in the wake of the Islamic State-linked attacks in Paris. Last week, the Northern League government of Brescia's region of Lombardy banned face-covering veils from public buildings and hospitals, citing security reasons.
Earlier this month Northern League's leader Matteo Salvini seized upon a fake report that an Italian headmaster had banned Christmas concerts to avoid causing offence to students from other religious faiths to claim that Italy's traditional values were at risk of disappearing because of immigration.