'No jostling involved': Obama's White House photographer Pete Souza keeps trolling Trump on Instagram
'Nailed the shade, one commenter wrote.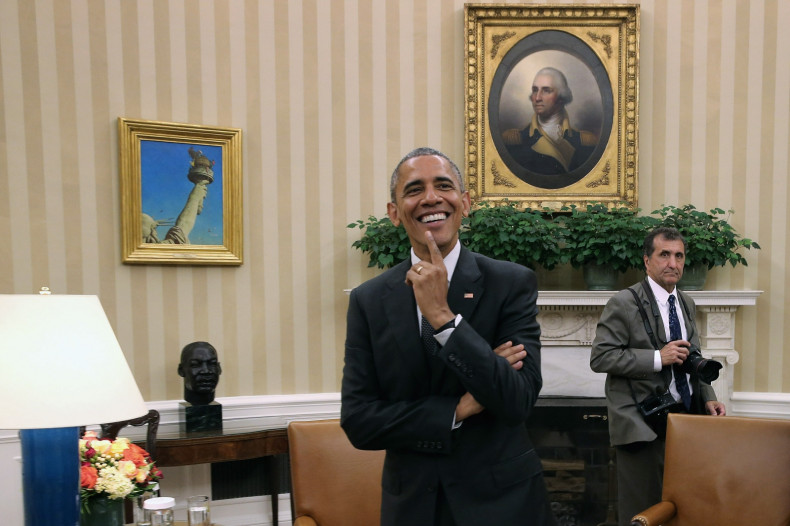 Former President Barack Obama's White House photographer, Pete Souza, is still taking subtle shots at President Donald Trump and his administration on Instagram. Since the beginning of the year, Souza has been curating a collection of cleverly captioned photographs from his time capturing Obama's White House whilst showcasing the stark difference between Trump and his predecessor.
Souza's personal Instagram account @petesouza has garnered over 1.3 million followers since it was created on 21 January, the day after Trump was inaugurated as the 45th president of the United States.
Through his series of carefully selected, timely photos and accompanying captions, Souza has continued to subtly troll Trump and visually comment on the controversy of the day.
From the recent Nato "shoving" incident and First Lady Melania Trump's apparent refusal to hold her husband's hand to Trump's leaking of classified information, Souza has not missed an opportunity to troll Trump through his stunning photographs.
During Trump's maiden foreign trip as president, he met other foreign leaders during his first Nato Summit in Brussels on Thursday and chastised Nato allies for not paying their "fair share" for defence.
A video of Trump apparently shoving the prime minister of Montenegro, Dusko Markovic, aside to get to the front of the group of world leaders also went viral.
Souza shared an image of Obama joking around with his fellow Nato leaders at a 2012 summit along with the caption: "Laughter at the 2012 Nato Summit. No jostling involved."
On Wednesday, the Congressional Budget Office released its score for the House healthcare bill, the Affordable Care Act, which would leave 23 million more people uninsured in the next decade. Souza posted a photo of Obama on the phone in the Oval Office the day the Affordable Care Act, also known as Obamacare, passed in March 2010.
"Scandal! Feet on desk! (Reality: lobbying a Congressman for his vote on the Affordable Care Act, which Congress passed later that day in March 2010)", the caption reads.
He also posted a photo of Obama smiling and shaking hands with Pope Francis as President Trump met with the pontiff in Vatican City.
This week, a photo from the meeting showing an unexpectedly glum Pope standing besides Trump and his family triggered a slew of hilarious memes and jokes on social media.
After Melania Trump seemed to rebuff her husband's attempts to hold her hand twice this week during the trip, Souza posted a simple photo of Barack and Michelle Obama sitting side-by-side at an event in Selma, Alabama and holding hands.
"Nailed the shade again," one user wrote in the comments. Another wrote: "Subtle and tasteful yet blunt at the same time."
Moments after Trump fired former FBI director James Comey, Souza posted a photo of Obama with Comey in the Oval Office alongside Lisa Monaco, who served as Obama's chief homeland security and counterterrorism adviser, and former director of National Intelligence James Clapper.
The caption reads: "Every person in this photograph is a patriot."
After Trump told US Coast Guard graduates that "no other politician in history... has been treated worse or more unfairly" as he had, Souza highlighted Obama's remarks at the Academy in 2015 that discussed the long-term importance of confronting climate change.
In the wake of Trump's leaking of highly classified information about Isis to Russia, Souza posted a photo of classified documents on Obama's desk.
When asked by Vanity Fair if his series of Instagram photos are a direct response to Trump and his actions, Souza said: "I think it speaks for itself."