US President Donald Trump met with Pope Francis for the first time at the Vatican on Wednesday, 24 May as part of his ambitious maiden five-city, nine-day foreign trip as head of the nation. Following stops in Saudi Arabia and Israel, Trump had a private 30-minute meeting behind closed doors with the pontiff.
During the election season last year, the pope had criticised the then-presidential candidate for his approach to immigration. "A person who thinks only about building walls, wherever they may be, and not building bridges, is not a Christian," the pope had said.
Trump also fired back at the time saying it was "disgraceful" for a religious leader to question a person's faith.
After the private meeting between the two, Pope Francis was introduced to the members of Trump's delegation including his wife Melania, daughter Ivanka, son-in-law Jared Kushner as well as aides Hope Hicks and Dan Scavino.
Trump took to Twitter after meeting the pope saying: "Honor of a lifetime to meet His Holiness Pope Francis. I leave the Vatican more determined than ever to pursue PEACE in our world."
The Holy See said in a statement that the meeting was "cordial."
"Satisfaction was expressed for the good existing bilateral relations between the Holy See and the United States of America, as well as the joint commitment in favour of life, and freedom of worship and conscience," the statement said.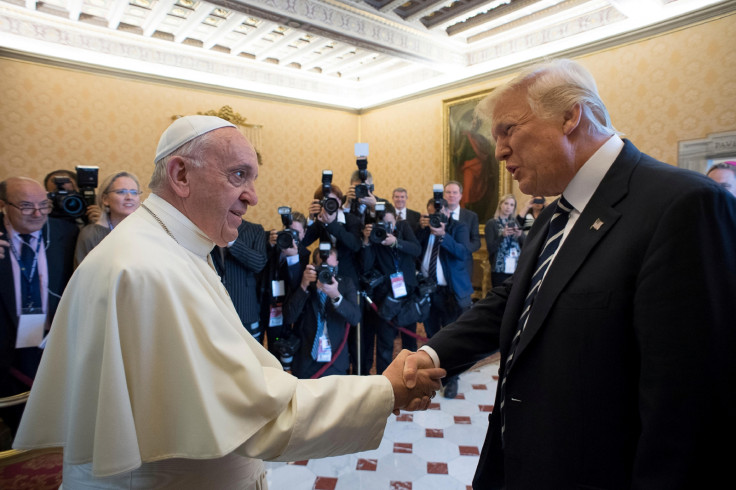 "It is hoped that there may be serene collaboration between the State and the Catholic Church in the United States, engaged in service to the people in the fields of healthcare, education and assistance to immigrants."
While Trump expressed his enthusiasm on social media and described the one-on-one as "fantastic," many mocked the president saying photographs of the meeting said otherwise.
While some mocked Melania and Ivanka's coordinated black ensembles and the pope's grim look during the meeting, others retorted sarcastically saying the Pope seemed "super duper excited to meet you as well."
"I would have loved to be a fly on the wall," one Twitter user wrote. "Talk about a tense level of awkwardness.. These men couldn't be more opposite of each other."