'No Polish allowed': Protest over ban on Eastern Europeans fishing at Oxfordshire lake
One Pole has decided to take action against the farm.
A fishery in Oxfordshire has become the subject of legal action after it barred Eastern Europeans from entering.
The owners of Field Farm Fishers which is northeast of Bicester in rural Oxfordshire have claimed that they have caught people stealing fish from the farm.
But a sign which reads "no Polish or Eastern bloc fisherman allowed" has sparked anger among some anglers.
Rado Papiewski has managed to raise more than £5,000 to pay for legal action, calling for the removal or the sign.
And now the Equality and Human Rights Commission has ruled that the signage is unlawful and that it may consider taking "enforcement action."
The Pole said that he was shocked to see the sign, which also bars vehicles, children and dogs, and he believes that it breaches the Equality Act 2010.
Speaking to the BBC, he said: "It discriminates against a group of people. It could be any nationality on this sign.
"It's [before] my time but... people are commenting that this is like going back to the 1960s."
He wants the sign taken down to prevent other fisheries from taking similar action.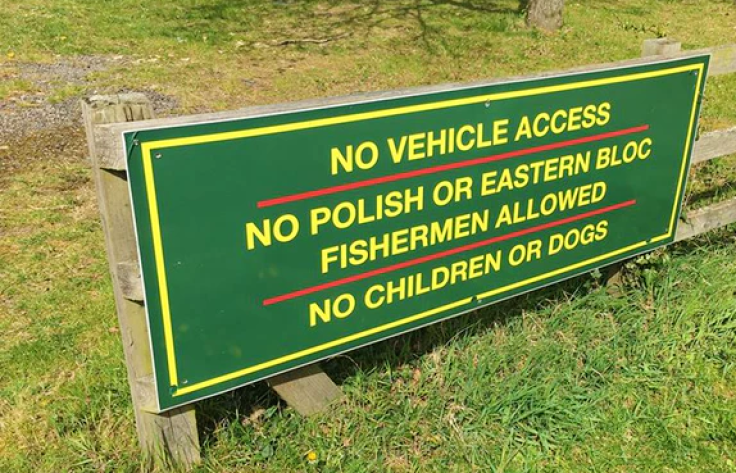 An Equality and Human Rights Commission spokesperson said: "It's right to challenge such out of date practices and any business that believes this is acceptable should think again before they find themselves facing legal action."
The owner of the farm, a former Conservative councillor, defended the signs saying: "I shall still stand up for what I believe in.
"If they want to call me a racist for stopping thieves from coming on my private property that's what they'll do.
"I know I'm right and I'm doing the right thing."