Nokia has posted its annual financial report for 2011, detailing a year which saw the company embrace Windows Phone at one end of the market, while commit to connect a billion developing world users at the other.
The Finnish company ended the year with an operating loss of $1.4bn, compared with a $2.74bn profit in 2010. As expected with such a loss, sales also took a heavy hit, with smartphone shipments down 25 percent from last year to 77.3 million.
Feature phone shipments fell just 3 percent, to a still-impressive 339.8 million units worldwide, while the average selling price dropped from $85 to $75.
In 2012 the average price is expected to fall further still thanks to the budget Asha range, which was expanded at Mobile World Congress in February and is aimed at connecting the developing world.
Nokia's message with the Asha range - which starts at around £60 - is to get internet-connected mobile phones into the hands of the next billion people.
The tactic to try and cover both ends of the mobile market is an interesting one; the recent alliance with Microsoft and its Windows Phone operating system has taken Nokia - some time after its rivals - into the smartphone arena with the Lumia range.
But by adopting such a new operating system, Nokia's Lumia 800 and 900 are starting from a standing start, with very few applications in comparison to the behemoth app store of Android and iOS.
You can read our hands-on preview of the Nokia Lumia 900 here.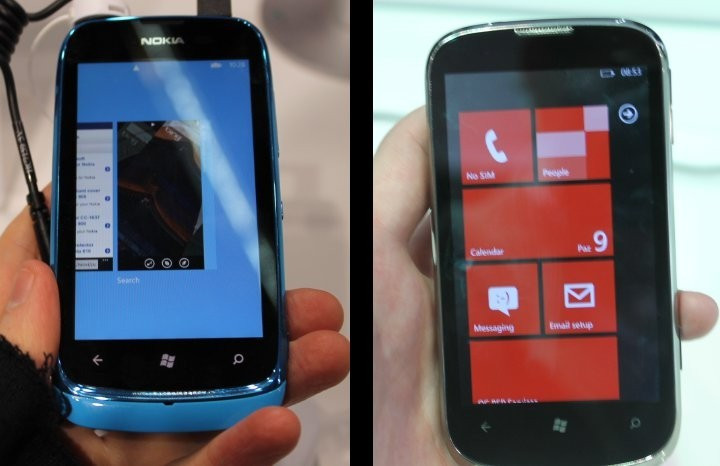 When launched in November 2011, the Lumia 800 failed to make much impact on the smartphone market - scooping just 0.17 percent in its opening month, some way behind the Samsung Galaxy S2 which claimed the top spot with 16.13 percent.
By December the 800's share had doubled, but - despite a huge advertising campaign - still remained at less than one percent of the market, and by February it was estimated that Nokia has sold between 800,000 and two million Lumia handsets.
Officially, Nokia are keeping quiet about sales figures, and CEO Stephan Elop is keen to focus on the long term and Nokia's ambition to build an ecosystem of applications and developers.
Launched at Nokia World London in November 2011 and expanding at Mobile World Congress in February, Nokia's Asha range hopes to connect the next billion people to the internet by offering cheap and cheerful phones to the developing world.
The Lumia and Asha ranges represent two very different strategies for Nokia - on one hand entering the smartphone market from scratch, and on the other aiming to sell a billion budget phones to the developing world.
Given that both ranges only entered their respective markets at the end of 2011, it will take at least a quarter before we can say with authority if either is a genuine success.
What we do know is that Nokia is playing a game of catchup in the smartphone market when, perhaps, it would be better off sticking to what it does best and taking advantage of the feature phone sector.
With Nokia smartphone sales for the year down 25 percent to 77.3 million, and feature phone sales at 339.8 million down just three percent, it would seem that the company's future lays with Asha rather than Lumia.