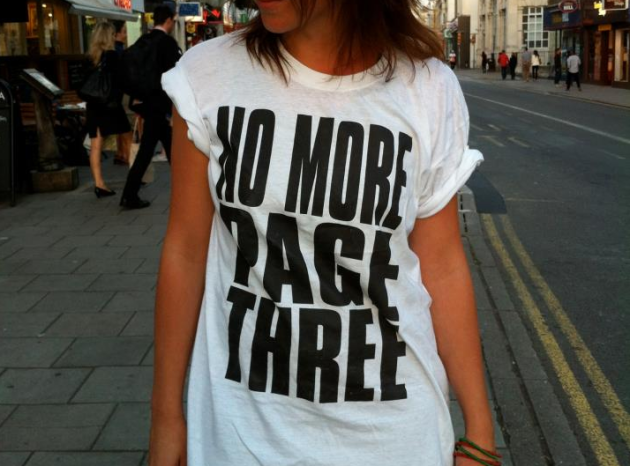 A group trying to ban bare breasts from The Sun newspaper claimed supermarkets urged the tabloid title to keep the topless Page 3 models.
The claim was made by spokeswoman for the campaign on BBC Radio 4.
Blogger and activist Lucy Holmes said leading high street names supported Page 3. They cautioned against moves by editors of the title who wanted to dump it, she alleged.
"Rebekah Brooks wanted to get rid of them but the advertisers said 'no'," Holmes told Woman's Hour.
"Advertisers like Asda, Morrison's, Tesco and Sainsbury's. You know, these big family value supermarkets that people are spending their hard-earned cash to feed their families. "I've heard this from the inside," said Holmes.
IBTimes UK contacted the four supermarket firms accused of perpetuating Page 3.
A Tesco spokesperson said: "This is entirely a matter for the Sun - it is not for us to comment on editorial decisions."
A representative of Morrison's also said the brand had no say on editorial decisions at The Sun.
"At no stage have we recommended to The Sun that they should retain Page 3. As editorial content, this is clearly a matter for the newspaper, not us," said a spokesperson.
A Sainbury's spokesperson said: "Lucy Holmes' comment in relation to Sainsbury's on Woman's Hour is untrue. Although we advertise in a number of publications including The Sun, editorial policy and what is included in any individual paper is entirely a matter for the publication concerned and their readers."
The latest campaign to banish bare boobs from The Sun crystallised on electronic social media.
More the 33,000 people have signed a e-petition for the UK's biggest-selling tabloid to dump the daily staple, now into its fourth decade..
Support was also harnessed on micro-blogging site Twitter, around the #nomorepage3 hashtag.
Previous campaigns to oust Page 3 from the shelves have ended in failure.
Holmes explained what triggered the latest bid.
"The issue is that the mages are run in a family newspaper," she said.
"Deep down we all know it's quite shaming.
"You have this group of men in a male-managed media, in a male-run society, deciding to use the female body in that way for their pleasure, without any thought to how women would feel."
Prior to the campaign, Holmes authored a blog about female insecurity.
"I realised I'd been heaping an awful lot of hate on my breasts and it made me sad, because I'd been heaping hate on them since they first arrived when I was 11 because I compared them to my brother's copy of The Sun lying about the house.
" I realised they weren't mine, they were there to be looked at by men, and they failed. It took me until my 30s to realise they're mine and they're hanging on my body."