In the second round of the Austrian elections in May this year, former Green Party leader Alexander Van der Bellen managed to poll very slightly more than his far-right opponent Nobert Hofer in the head-to-head for the Austrian Presidency. Hofer's political party, the Freedom Party of Austria, subsequently submitted a challenge to the country's constitutional court due to irregularities that were deemed to have taken place. The result was an annulment of the May elections and a re-run scheduled for October. The failure of the postal vote seals gave rise to another little hiccup in the electoral process that has gone down in the long saga of Austria's 2016 vote as 'Gluegate'.
But laughter gave way to tension as international media looked on, fearing the possibility of Austria electing "Europe's first far-right leader since Hitler" in the rescheduled second round on 4 December. This has been not only the longest presidential election process in Austria's post-war history, but without doubt the most acrimonious, too.
Social media has exposed the full ugliness of emotions directed at both candidates, but the televised 'duels' also degenerated into personal accusations and unpleasantries. The grass roots mobilisation of voters seems to have worked particularly well for Van der Bellen, whose final poll will settle at around 53% to Hofer's 47% (a ten-fold increase of the May margin of 0.6%). Endorsements came from politicians across the spectrum, from pop music celebrities, from young and old. Video talking heads included a very elderly concentration camp survivor and a young former Freedom Party voter, both explaining why voters should vote for Van der Bellen – or rather why they should not vote for Norbert Hofer.
This is why the 'sigh of relief' from earlier this year has not been replaced by triumphalist celebration as observers and voters alike speculate over what will happen next. The fallout from Brexit and from the 'Trump Effect' has worked in favour of the broadly pro-EU majority in Austria and not to its detriment, as many had initially posited.
Van der Bellen has stressed at every opportunity the necessity of Austria's EU membership for its economic strength, for the peace project – and for social solidarity. It is this latter point, however, which veils some of the more heated issues troubling Austrian voters.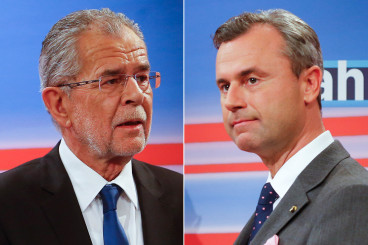 In recent years, refugee numbers coming to or through Austria have increased markedly, with 2015 seeing a very high net migration to Austria of around 113,000. Austria took in the third highest number of asylum-seekers per head of population in the EU. However, at the end of the day, Hofer's springtime 2016 campaign call to stop the 'invasion of muslims' is no different to the FPÖ's 1999 campaign poster promising a stop to 'over-foreignisation' ('Stop der Überfremdung') and the traditional 'Austria First' style of populism is unlikely to cede to a different line of campaigning.
Following his initial quiet acknowledgement of defeat, Norbert Hofer has today said that the election defeat has awoken 'a sleeping bear' inside him. He has promised himself as a 'prominent election helper' to party leader H C Strache, and the party's media machinery is already gearing up for the next campaign fight. National elections are due in 2018 and the FPÖ will be looking to retain some of the clear appeal that has been generated by their recent attempt at filling Austria's highest office.
But of course, as Austria's election result has been somewhat eclipsed by interest in Italy's referendum yesterday against pro-EU prime minster Matteo Renzi, any idea that today's result has sent a clear signal to the electorates of other countries who are toying with populist parties and far-right movements seems premature.
---
Allyson Fiddler is a Professor of German in the Department of European Languages and Cultures at Lancaster University. She is currently writing a book on cultural reactions to the Far Right in Austria.
---