North Korea calls US bombers flying over Korean peninsula as 'rash act'
Pyongyang also rejects the UN Security Council's condemnation of the missile launch by the Kim Jong-un regime.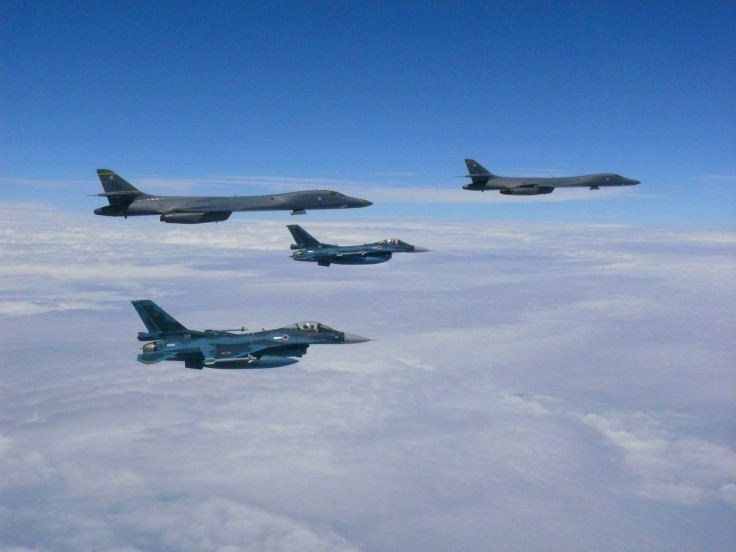 North Korea called the US' latest move to fly bombers and other warplanes over the Korean peninsula as a "rash act". Condemning the act of the "warmongers," the North said this was a direct response to Pyongyang's latest missile launch.
The reclusive North Korean regime had launched an intermediate-range ballistic missile, Hwasong-12, on Tuesday, 29 August, amid the already existing tensions in the region. This had prompted the US to send strategic bombers and stealth jets to fly over the region as part of its ongoing drills with South Korea.
"The wild military acts of the enemies are nothing but the rash act of those taken aback by the intermediate-to-long range strategic ballistic rocket launching drill conducted by the army of the DPRK [Democratic People's Republic of Korea – North Korea's official name] as the first military operation in the Pacific," said a report by the state-run Korean Central News Agency (KCNA).
The US had flown four F-35B stealth fighters and two B-1B nuclear-capable supersonic bombers on Thursday, 31 August as a show of strength against the hermit kingdom. The sophisticated bombers originated from the Anderson Air Force Base in Guam, the facility which was threatened by North Korea recently, and the F-35Bs were drafted in from the US' base in Japan.
Meanwhile, the Kim Jong-un regime also lashed out against the UN Security Council's stinging condemnation of the missile launch. Pyongyang "categorically rejects the 'presidential statement' of the UNSC that flagrantly violated the right to self-defence of a sovereign state," read a statement attributed to a North Korean foreign ministry spokesperson.
The 15-member UNSC had earlier called the missile test as an "outrageous" threat but stopped short of announcing a fresh round of sanctions against the North.
© Copyright IBTimes 2023. All rights reserved.