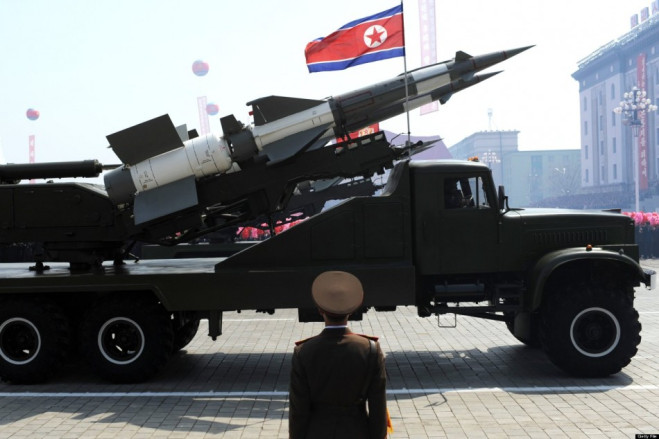 North Korea has fired short-range missiles off the east coast of the Korean peninsula, according to Yonhap news agency.
The missiles flew for 45 miles before landing in the sea. "We estimate the rockets travelled about 70km in the open waters," said a government official in South Korea.
These aggressive actions have drawn criticism from South Korea and the West, but North Korea has defended its recent short-range launches, according to CNN.
The missile launches are a continuation of North Korea's drills which it calls a preparation for an attack, and a test of its own weapons systems. They followed South Korea's announcement that Pyongyang fired four short-range Scud missiles with a range of more than 125 miles (200km) into North Korea's eastern waters last Thursday.
"It is justifiable self-defence behaviour for us to conduct these military exercises in order to preserve peace in the region and to protect the safety of our people and our country," said a North Korean government source.
North Korea is not banned from short-range missile launches under UN sanctions.
However, tensions are high after North Korea fired a rocket on Tuesday 6 March without giving any navigational warning, which they explained as "rocket launch training".
The rocket in question was one of seven fired by North Korea into the sea off its east coast, according to South Korean authorities.
In early 2013, North Korea conducted its third nuclear weapons test, having successfully launched a long-range rocket in 2012 that critics say was aimed at proving technology for an intercontinental ballistic missile.
Both of these are banned under UN sanctions.
Watch the video of North Korean missile launches