The younger sister of North Korean dictator Kim Jong-un has made her public debut as a government official when she accompanied him to a polling station for parliamentary elections.
Kim Yo-jong, believed to be 26, was shown on North Korean state TV trailing her brother and party officials on the way to casting votes at Kim Il-sung University of Politics in Pyongyang.
Dressed in a black skirt suit, she was identified by commentators as "comrade Kim Yeo-jong" and described as a senior official, a rank she has not previously been known to hold.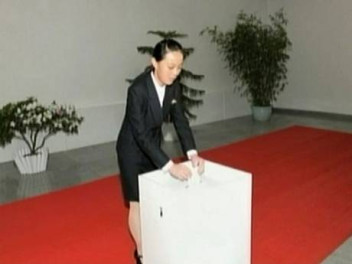 The elections were unsurprisingly won by the ruling Workers' Party in each constituency.
Only one name appeared on the ballot for each district and voters had to write "Yes" or "No" on the paper.
Kim Jong-un ran in Mount Paekdu, a region with semi-divine status as it was where the dictator's father, Kim Jong-il, was born. He won 100% of preferences, KCNA news agency reported.
The poll, the first of its kind since Kim took the reins in 2001, was not Kim Yo-jong's first public appearance. She was seen in tears at Kim Jong-il's funeral in 2011 and has appeared sporadically alongside her brother over the past few years.
Analysts said that her ascent in the party ranks signalled the increasing grip on power of Kim's family.