North Korea has fired off four short-range missiles into the West Sea (also known as the Yellow Sea) as a protest against an ongoing joint military drill conducted by the US and South Korean forces.
Seoul has confirmed at least four missiles were launched by the belligerent Pyongyang regime.
"[North Korean military] launched four short-range projectiles presumed to have a range of some 140km into the West Sea in succession between 4.15pm and 5pm today from Dongchang-ri, North Pyongan Province," said a statement from South Korea's Joint Chiefs of Staff (JCS).
"The projectiles are believed to be for a provocative show of force to pressure the South."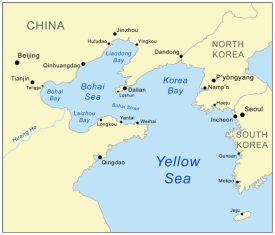 Pyongyang often launches missiles whenever the annual military exercises are undertaken by the US and South Korean forces in the Korean Peninsula.
Missed missiles
Pyongyang rigorously condemns the military drills, dubbing them as preparations for an imminent war against North Korea. But the joint US and South Korean forces say the exercises are for defensive purposes.
A South Korean official told Seoul's Yonhap news agency on condition of anonymity: "What the North fired are believed to be KN-02 ground-to-ship missiles, factoring in their range, speed and trajectory.
"Some of the rockets appear to have landed inland in its own territory, which is not usual."
It is still unclear from which base North had fired the missiles, but Pyongyang has a military installation in Dongchang-ri where it conducts its test launches.
The US and South Korea began carrying out the military exercises – known as Foal Eagle – since 2 March. They are expected to last until 24 April.
North Korea also fired missiles at the start of the computer-simulated military exercises.