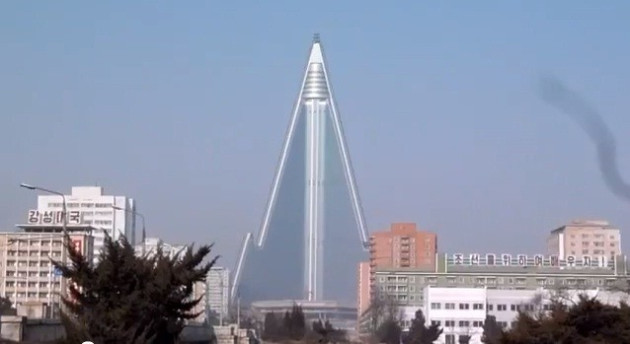 North Korea's 105-storey Ryugyong hotel may welcome its first guests in 2013, nearly 26 years after construction began.
Ryugyong, which translates as "capital of willows", was a prestige construction project for North Korea's ruling communist party, and completion was originally scheduled for 1989, in time to host the 13th World Festival of Youth and Students.
The building was beset by problems, however, and the worsening economic situation in North Korea led to construction being abandoned in 1992. Since then, it has become an object of ridicule in the west, earning the nickname "hotel of doom".
The 300-metre (1,100ft) hotel will be the 47th tallest building in the world, once completed. The cost of completion is estimated at $180m (£112m).
The new hotel will be run by the German luxury hotel operator the Kempinski Group. Reto Wittwer, the group's chief executive, said the hotel may "partially, probably" open for business within the next 12 months.
He said only the upper levels of the building would be used as a hotel, whereas the lower levels would house shops, restaurants and offices. The hotel was originally planned to have 3,000 rooms and three revolving restaurants.
The unfinished structure, which dominates the skyline of the North Korean capital, was voted the "Worst Building in the History of Mankind" by Esquire magazine in 2008. It was also described as a "hideously ugly, even by communist standards," by US magazine.
In 1997, a delegation from the European Union Chamber of Commerce in Korea said the building was beyond repair.
In September, Pyongyang gave a glimpse of the interiors of the hotel to a Beijing-based company, Koryo Tours, which organises trips to North Korea.