North Korea has reportedly launched a second intermediate-range ballistic missile (IRBM) on the Wednesday morning (22 June) following a failed first attempt, South Korean and US military officials confirmed. The earlier failure would be Pyongyang's fifth missile defeat since April this year.
A South Korean official said the first Musudan missile was launched around 5.58am from the east coast city of Wonsan, the same area where previous missile tests were conducted, according to Yonhap News Agency. The second missile, believed to be the same type of IRBM, was launched about two hours later at 8.05am.
"The second Musudan-like missile flew about 400 km," the Joint Chiefs of Staff said, albeit without confirming whether it had been successful. "South Korea and the United States (militaries) are carrying out an in-depth analysis on it."
Yonhap News Agency reported that the first missile allegedly burst into pieces in the air, after flying around 150 km after being launched. North Korean leader Kim Jong Un is believed to have watched both early morning launches.
According to CBS News, the missile tests are a cause for concern for Tokyo, Seoul and Washington because the missile could potentially reach a 2,180-mile range that would open up much of Asia and the Pacific. as a target The missile launches are also in defiance of international warnings as well as UN Security Council resolutions that prohibit North Korea from using ballistic missile technology, Reuters reported.
Tokyo warned it would strongly protest the launch, citing UN resolution violations. Japanese Defence Minister, Gen Nakatani, said the launch had not affected Japan's security but also said it was a "grave provocative action."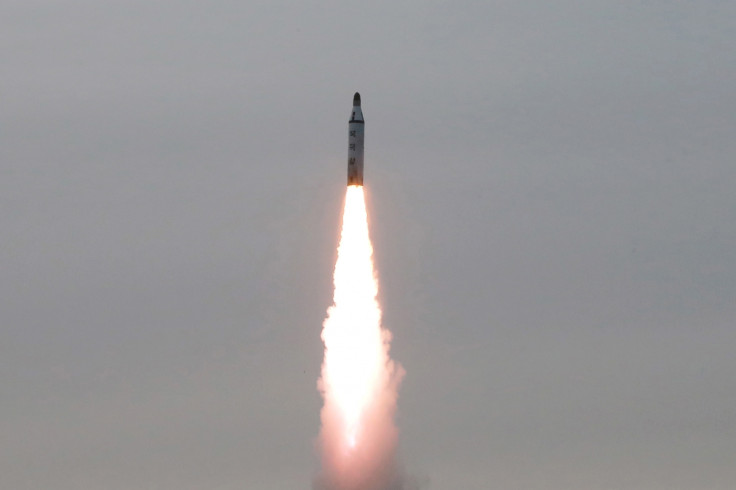 Washington also condemned the launches and threatened to raise the issue at the UN Security Council. "We strongly condemn these and North Korea's other recent missile tests, which violate UN Security Council Resolutions explicitly prohibiting North Korea's launches using ballistic missile technology," said State Department spokesman John Kirby in a statement, Yonhap News Agency reported.
"These provocations only serve to increase the international community's resolve to counter the DPRK's prohibited activities, including through implementing existing UN Security Council sanctions," he continued. "We intend to raise our concerns at the UN to bolster the international resolve in holding the DPRK accountable for these provocative actions."
The reclusive communist nation unsuccessfully attempted to launch three suspected Musudan missiles in April, CBS News reported. All three exploded in midair or crash, South Korean defence officials said. Earlier in June, the country had another suspected Musudan launch failure.
The missile launches, which spring from Kim Jong Un's March order for more nuclear and ballistic missile tests, were in response to the US-South Korean military drills in the spring. CBS News also noted that following the end of the military drills, Pyongyang has continuously called for talks with Seoul, but Seoul has rejected those invitations.