North Korea has lashed out at the US saying it is "ready to react to any mode of war" in response to a US aircraft carrier strike group heading towards the Korean peninsula. In a strongly worded statement, the foreign ministry on Monday (10 April) said the deployment showed "reckless moves for invading" the country and lashed out at how the US had "reached a serious phase" by its actions.
"If the US dares opt for a military action, crying out for 'pre-emptive attack' and 'removal of the headquarters', the DPRK is ready to react to any mode of war desired by the US," the ministry was quoted as saying by the state news agency KCNA. DPRK – the Democratic People's Republic of Korea – is the official name of North Korea.
On 9 April, the Hawaii-based Pacific Command announced that the Carl Vinson Strike Group was sent to waters near the Korean peninsula. The fleet comprises the nuclear-powered Nimitz-class super carrier USS Carl Vinson, two guided-missile destroyers and a guided-missile cruiser. It was originally meant to make port calls in Australia. However, it was diverted from Singapore – where it recently conducted drills with the South Korean Navy – to the west Pacific due to increasing threats from Pyongyang.
"We will hold the US wholly accountable for the catastrophic consequences to be entailed by its outrageous actions," the statement from the ministry said.
The isolated state added it would "never beg for peace" in order to defend itself by powerful force of arms. Besides, Pyongyang would not hesitate to take the toughest action to counter any provocateurs and carry out its nuclear programme ambitions as desired by its leader Kim Jong-un, the ministry said.
It further added that the US naval deployment only showed that Pyongyang was right in developing its nuclear weapons programme that the country can use in self defence or in a pre-emptive strike.
US President Donald Trump's administration had been "foolish enough to deploy" strike groups in the Korean peninsula, but Pyongyang would remain "unfazed", the ministry said.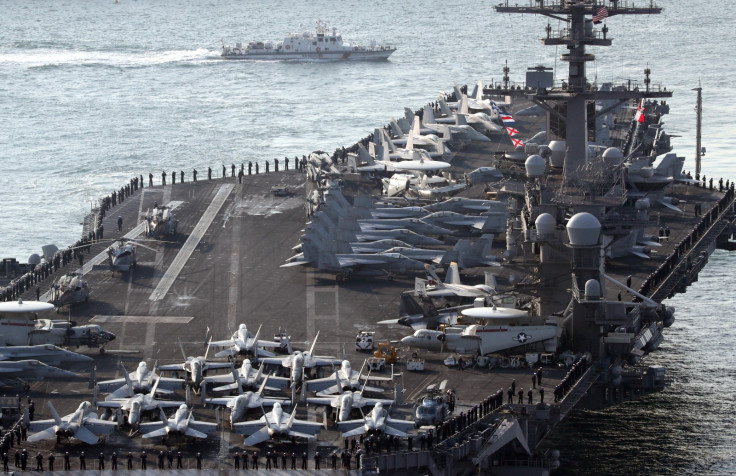 Kim is accused of violating UN resolutions and sanctions against his regime by conducting repeated nuclear and missile tests.
Trump had earlier said Washington was prepared to act alone to deal with North Korea's nuclear threats.
The Pacific Command said its strong naval strike group deployment was aimed at maintaining readiness in the region, but South Korea seemed to have played down the move saying the deployment does not amount to military confrontation with the Kim Jong-un regime.