President Donald Trump has assured Japan's Prime Minister Shinzo Abe that the US would boost its military defence capabilities against increasing threats from North Korea.
The leaders held a phone conversation the day before the American president is set to meet his Chinese counterpart Xi Jinping for their first summit on Thursday (6 April).
The 35-minute phone call took place after North Korea fired off a ballistic missile, which landed in the East Sea, also known as the Sea of Japan. Tokyo, along with South Korea, has strongly condemned the provocative act and pledged to act with its allies to limit the threats emerging from Pyongyang.
The White House reiterated that all options are still on table while handling the hermit kingdom of North Korea – which in recent months has sharply increased its military activities with no signs of scaling down in the near future.
The statement added that Trump "made clear that the United States will continue to strengthen its ability to deter and defend itself and its allies with the full range of its military capabilities".
In the phone call, Abe and Trump have also agreed that China, a key backer of North Korea, needs to put more pressure on Pyongyang to stop its nuclear programme.
Though the White House has previously issued tough remarks on North Korea, the latest statement was released hours prior to Trump's meeting with Xi. Earlier, the US president emphasised that Washington is prepared to go in alone against North Korea if Beijing is not willing to put in efforts.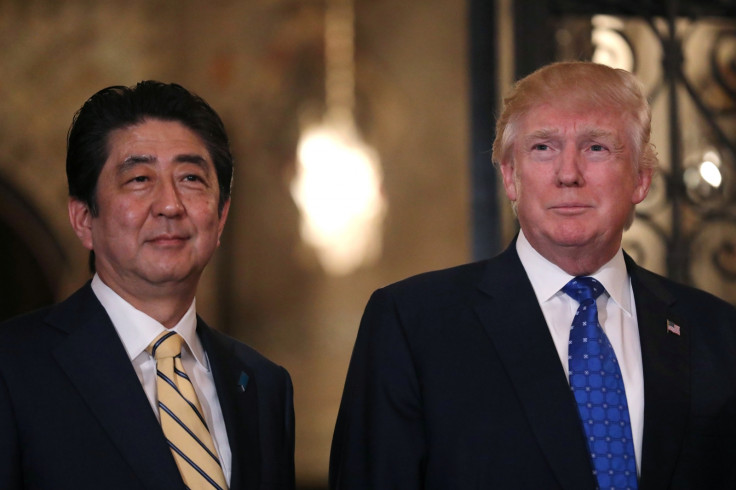 "China has already taken action concerning its coal imports. But they agreed that is not sufficient," said a Japanese official while briefing about Trump's conversation with Abe. The teleconference was initiated by Tokyo against the backdrop of the latest missile launch.
Minutes after he spoke to the American leader, Abe told reporters that he welcomes Trump's tough position while handling the North. "We had an exchange of in-depth views. Tomorrow, the US-China summit meeting will be held in a situation like this," he said as quoted by the Japan Times. "I told [the president] that Japan is closely watching how China will deal with issues involving North Korea."