US deployment of navy strike group to peninsula reflects tough stance says South Korea
Seoul says aircraft carrier and warship presence does not mean preemptive strike on North Korea is imminent.
The decision to deploy a strong naval strike group, led by an aircraft carrier to the Korean peninsula, mirrors the US's tough stance on dealing with existing tensions in the region, South Korea has said.
While playing down the option of the American armada launching any pre-emptive attack on North Korean positions, Seoul said the mobilisation is part of an overall strategy to better handle the Pyongyang regime.
The Hawaii-based Pacific Command announced on Sunday (9 April) that the Carl Vinson Strike Group – comprising the nuclear-powered Nimitz-class supercarrier USS Carl Vinson, two guided-missile destroyers and a guided-missile cruiser – was sent to waters near the Korean peninsula. The fleet was originally headed to Australia, but was reportedly diverted due to increasing threats from the North.
Responding to the Trump administration's decision, South Korea's defence ministry spokesman said that the move shows Washington's commitment to bolstering defence capabilities to counter the hermit kingdom's provocative acts such as missile launches and nuclear detonations.
"The deployment seems to reflect the [US] perception of the seriousness of the situation on the Korean Peninsula," Moon Sang-gyun said. Although the US dispatches military assets including sophisticated aircraft as a show of strength, the latest deployment is significant as the 97,000-ton Vinson has about 5,000 personnel and carries more than 60 aircraft on its deck.
However, officials in Seoul attempted to play down the move as well and said the deployment does not amount to military confrontation with the Kim Jong-un regime.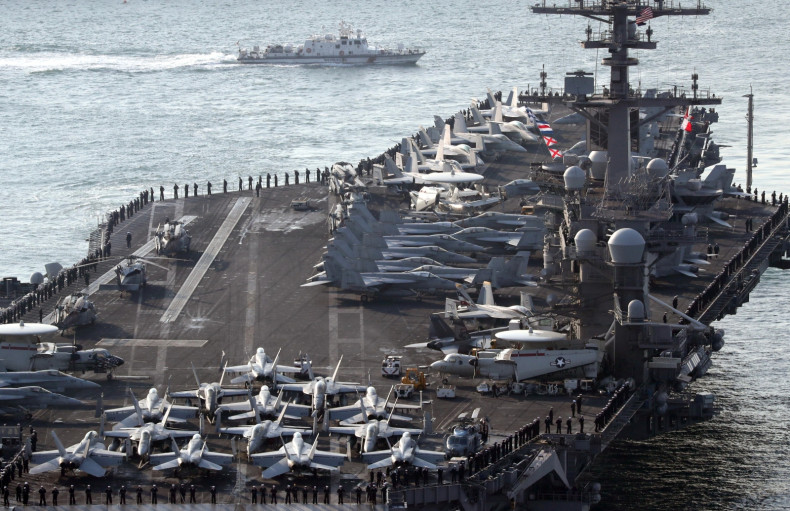 "There's no need to be worried much. The US has said it supports South Korea's policy on North Korea, and our government intends to solve all the problems peacefully," South Korea's unification ministry spokesman Lee Duck-hang said.
He added that the US and South Korea intend to maintain peace and stability in the region by resolving matters amicably with the North.
Analysts are keeping a close watch on the situation as some are concerned the US and North Korea run the risk of sparking a conflict.
"Neither the US nor North Korea would take the initiative to wage a war, but the risk of conflict is higher as a small miscalculation or accident could bring a war to the peninsula," Zhang Tuo­sheng from the China Foundation for International and Strategic Studies told the South China Morning Post.