Thousands of ecstatic North Koreans joined a mass dance and a torchlight parade at the end of the first Workers' Party Congress for 36 years, at which Kim Jong-un formalised the country's claim to be a nuclear power. Thousands of people shouted "manse!", or "live forever!" while clasping their hands in the air or waving pink flowers as they passed before Kim and other top officials on a leaders' platform.
The state also put on a concert by Moranbong, an all-female band whose members were selected by the North Korean leader.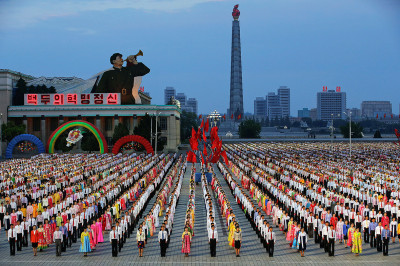 Kim used the party congress, the first since 1980, to highlight North Korea's aim to expand its nuclear arsenal, in defiance of UN sanctions, though he said the weapons would only be used if North Korea was threatened with similar weapons. Kim, who assumed power in 2011 after his father's death, took on the new title of party chairman. The promotion – his previous party title was first secretary – had been predicted by analysts who had expected Kim would use the congress to further shore up his power.
An unusually large contingent of 128 foreign journalists were issued visas to visit during the congress, but access to formal proceedings was limited to a brief visit by a small group to the congress venue. BBC correspondent Rupert Wingfield-Hayes and two of his colleagues, who had been in North Korea to cover the visit of a group of Nobel laureates ahead of the congress, were expelled from the country.